2016 Annual Report
2016 was a year Great Outdoors Colorado (GOCO) and its partners put a vision for the future into action. A plan became inspired projects. A strategy became reality.
To address the needs of our state's vibrant and resourceful communities, GOCO launched three special initiatives anchored by goals in our five-year strategic plan: 
Protect land for parks, trails, wildlife, and people. 
Connect trails and improve accessibility. 
Inspire Coloradans to get outside and take care of the outdoors. 
As we implemented these initiatives, our grantees were on the ground investing Lottery proceeds in communities from the Eastern Plains to the Western Slope. In Colorado's biggest cities and smallest towns, and everywhere in between, GOCO grantees built more parks and trails, conserved more land and rivers, and safeguarded more wildlife and its habitat. 
Together we're keeping pace with change in our state and bringing Coloradans more of what makes it great.
Amid a booming population, land conservation remains urgent in Colorado. The Protect Initiative was created to address large-scale, once-in-a-lifetime conservation opportunities across the state.
In Fiscal Year 2016,* GOCO awarded the first round of funding to four urgent and significant projects. In total, the Protect Initiative will invest $47 million over the next three years in important land conservation projects in urban and rural areas.
The Trust for Public Land will conserve more than 4,800 acres of Trampe Ranch, an iconic working ranch that accounts for 20% of agriculture in Gunnison County and offers outstanding views from more than 100 miles of surrounding trails. 
In partnership with the City of Fort Collins, Larimer County will conserve approximately 2,400 acres near Horsetooth Mountain Open Space, connecting a patchwork of remaining undeveloped land to expand recreational opportunities.
With a grant to protect three properties totaling more than 18,000 acres, Western Rivers Conservancy will create new public land access for rural Costilla County in the San Luis Valley, where 99% of land is privately owned.
Prospect Park and Recreation District will protect Golden's Applewood Golf Course—a rare tract of urban open space that was facing potential development—conserving the land for recreation, wildlife habitat, and a new trail connection.
80% of Coloradans use trails for outdoor recreation, and the Connect Initiative will help get them where they want to go. Whether it's closing critical trail gaps or providing Coloradans with close-to-home parks, Connect will create expansive, accessible, and safe-to-navigate networks for outdoor recreation in Colorado communities.
The Connect Initiative is the culmination of two decades dedicated to providing better access to the outdoors. GOCO's Paths to Parks Initiative previously invested $8 million to build 37 miles of trails across the state, and earlier "legacy" grant programs invested tens of millions of dollars in revamping entire river corridors to better connect local residents with the outdoors.
Closing these trail gaps and building easily accessible parks and playgrounds not only creates vibrant, connected communities but also bolsters in-state tourism and boosts local economies.
In the fall of 2016 (FY 2017*), the GOCO Board awarded the first round of Connect Initiative grants.
Money. Transportation. Not feeling welcome. A variety of barriers keep Colorado kids and their families from getting outside and experiencing all our state has to offer.
That's why GOCO has committed more than $25 million in funding over a five-year period, empowering local coalitions to identify and tackle these barriers in Colorado's rural, mountain, urban, and suburban communities. The six pilots leading the way are Northeast Metro Denver (the Montbello neighborhood, Commerce City, and northeast Aurora); Denver's Westwood neighborhood; the San Luis Valley; Lafayette; Lake County; and Lamar.
In FY 2016, these coalitions and additional Tier 2 communities received a total of $1.4 million in initial grants to engage local kids and their families in the planning effort. All 21 coalitions are eligible to apply for implementation funding beginning in FY 2017.*
THIS YEAR | $1.4 MILLION IN PLANNING GRANTS • 21 COALITIONS • 6 PILOTS LEADING THE WAY • 15 TIER 2 COMMUNITIES MOBILIZING • 2 WORKSHOPS AND 1 ONLINE COMMUNITY FOR SHARED LEARNING • 303 YOUTH ADVISORY COUNCIL PARTICIPANTS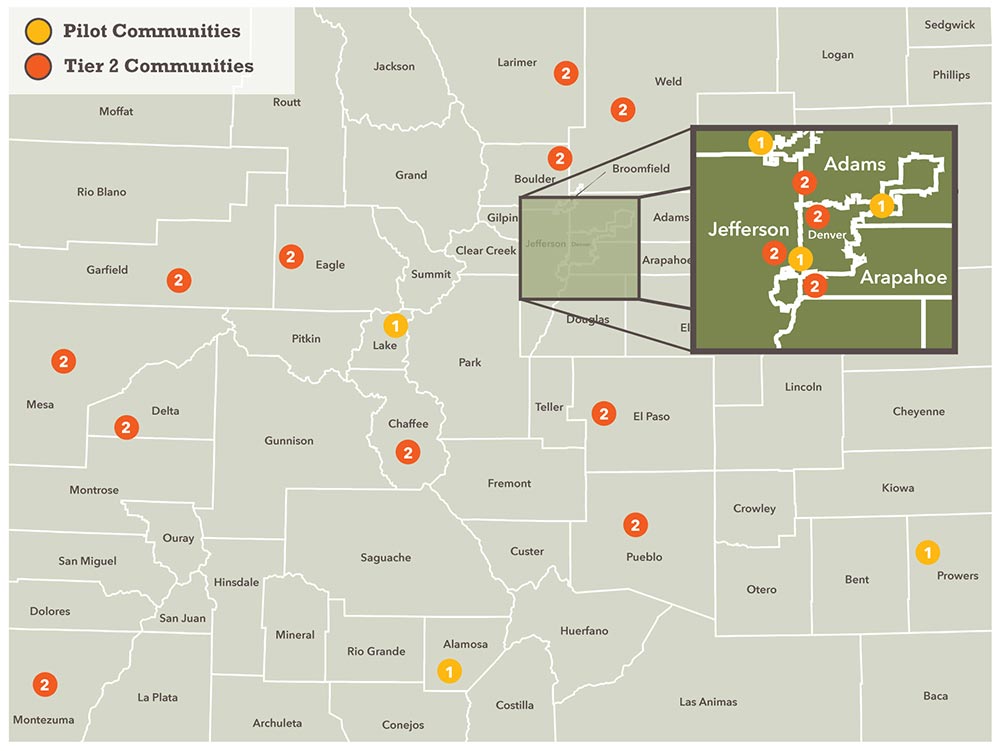 GOCO At-a-Glance
Projects funded in FY 2016*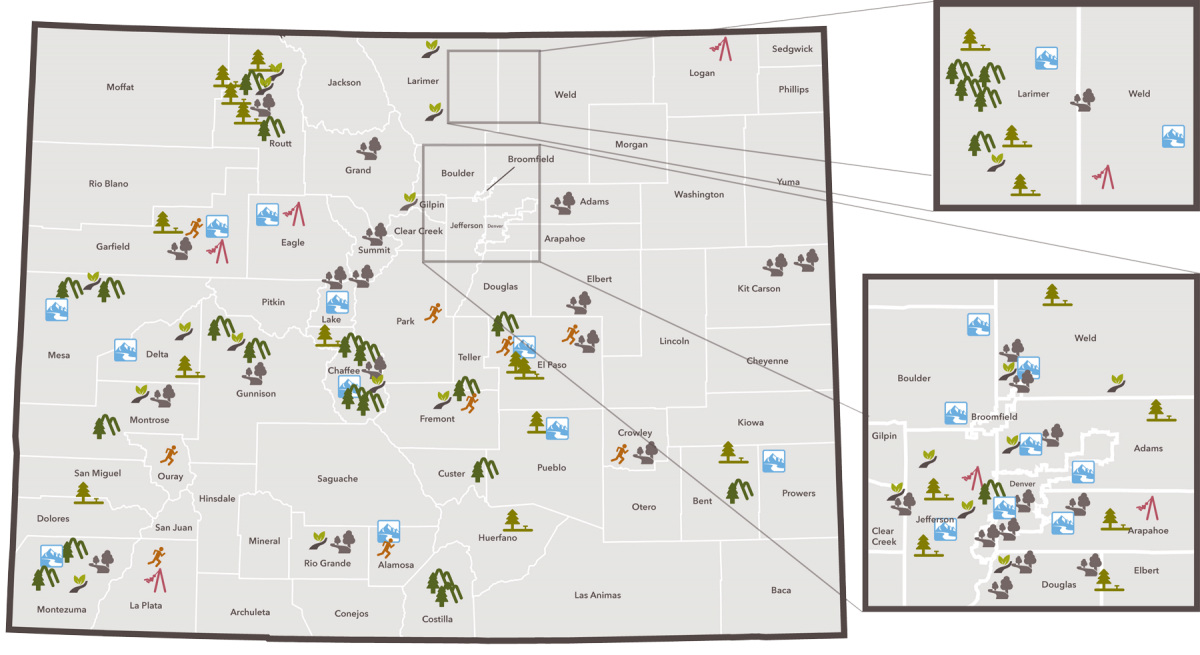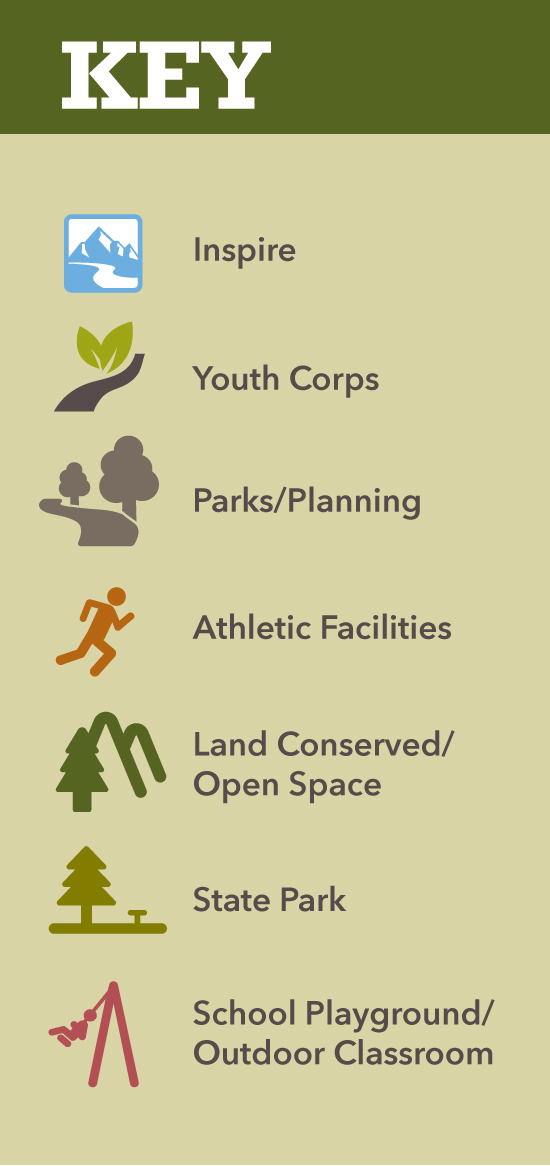 GOCO also funds regional and statewide projects through our investments in Colorado Parks and Wildlife and through our conservation excellence grant program.
CPW's GOCO-funded statewide programs include natural resource and invasive species management, fire fuel mitigation, and environmental education.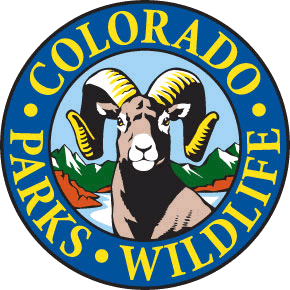 Status Report
In FY 2016*, our grantees put GOCO funds to work for: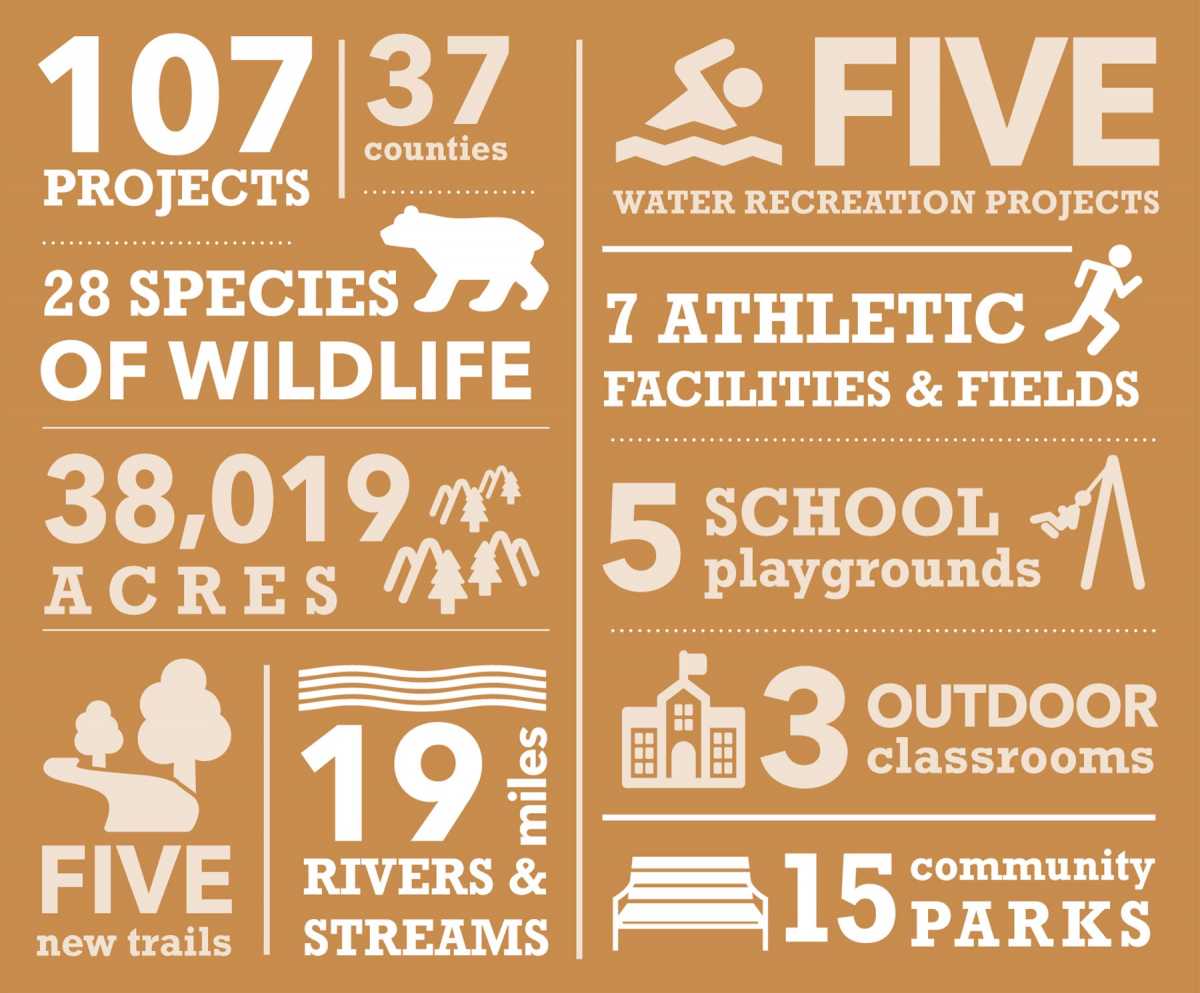 Since our inception in 1992: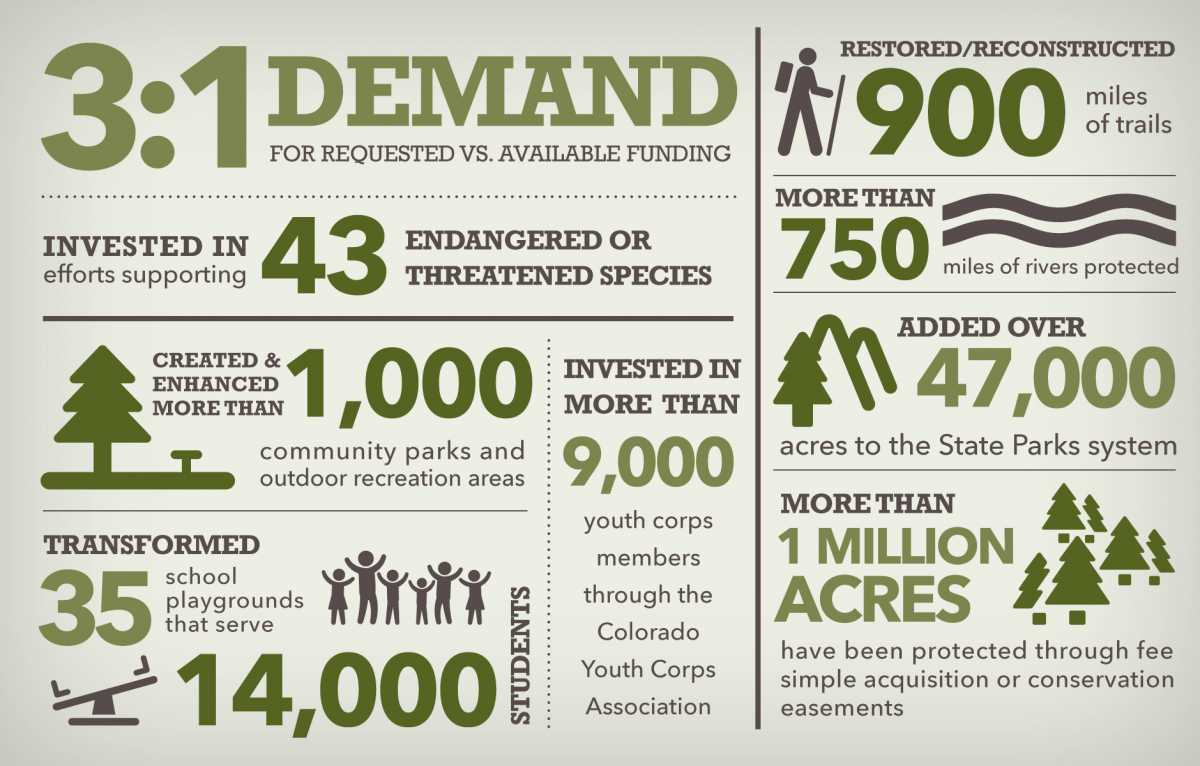 Economic Impact
Outdoor recreation contributes $34.5 billion to the Colorado economy, creating 313,000 jobs in the state.
Wildlife activities account for over $5 billion of economic output in Colorado, supporting nearly 50,000 jobs within the state.
Operations and capital spending in local and regional parks in Colorado created $4.6 billion in economic activity and supported over 36,000 jobs in 2013.
Aging, outdated playgrounds are being transformed into nature-inspired havens where children can be wild and learn about the outdoors. The best part: kids are leading the charge.
GOCO's School Yard Initiative (SYI) is empowering youths and charting a course for what nature-inspired play looks like. Plus, elementary schools awarded SYI funding are eligible to participate in Colorado Parks and Wildlife's Schools and Outdoor Learning Environments (SOLE) program, which provides teacher training, family nature nights, and additional outdoor education opportunities. 

THIS YEAR | $500,000 AWARDED • 2,000+ STUDENTS BENEFITTED • 6 PLAYGROUNDS COMPLETED • 1 PARTNERSHIP WITH SOLE LAUNCHED • 58% AVERAGE FREE AND REDUCED LUNCH (FRL) RATE AT SCHOOLS AWARDED FUNDING • 10 COMMUNITY FUNDRAISING EVENTS HOSTED BY CALICHE ELEMENTARY SCHOOL
Tomorrow's outdoor stewards are cultivated in youth corps crews that GOCO grants help employ on vital environmental and outdoor recreation jobs.
Teenage and young adult unemployment rates are alarmingly high, and GOCO funding through competitive grants and Colorado Parks and Wildlife helps create more jobs and higher education opportunities for young people across the state. 
THIS YEAR | $900,000+ AWARDED THROUGH GOCO AND CPW • 67 WEEKS OF WORK • 19 CREWS DEPLOYED • 200+ CORPS MEMBERS EMPLOYED • 37 MILES OF TRAILS IMPROVED • 100 ACRES OF FIRE FUELS MITIGATED • 51 ACRES OF WATER-HUNGRY INVASIVE PLANTS REMOVED • $140,000 IN AMERICORPS SCHOLARSHIPS FORECASTED TO BE EARNED BY CORPS MEMBERS 

As Coloradans we take pride in our state's great outdoors and how we use them. It's why many of us call this state home. But not every Coloradan has grown up with a high-quality park or trail in their backyard.
GOCO funding improves and enhances parks of all sizes and types. Whether our grantees are giving a small town its first-ever park, revamping unsafe but heavily utilized athletic facilities, or making improvements to a park's ADA accessibility, we're creating spaces that get Coloradans outdoors and engaged in their communities.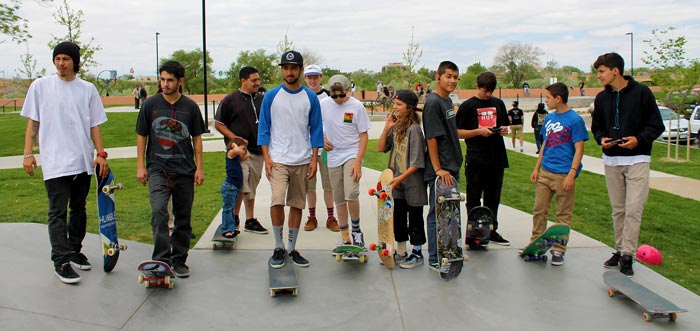 THIS YEAR | $6.7 MILLION AWARDED • 24 PARKS OR PLAYGROUNDS IN COMMUNITIES OF EVERY SIZE, FROM THE CITY OF DENVER TO THE TOWN OF STRATTON (POPULATION 664) AND EVERYWHERE IN BETWEEN • 2 COUNTY FAIRGROUNDS THAT SERVE AS OUTDOOR RECREATION HUBS • 3 WATER RECREATION PROJECTS • 5 OUTDOOR SPORTS FACILITIES • 10 MASTER PLANS FOR NEW PARKS, TRAILS, AND COLLABORATIVE EFFORTS TO GET KIDS OUTSIDE

Conservation in Colorado has an important mission: maintain the quality of life that draws us in and makes this place what it is.
GOCO funds projects that sustain local agriculture and economies, give outdoor recreationists a place to play (or simply to enjoy the view), protect wildlife habitat, safeguard the state's water supply, and improve best practices and the land to help make sure we keep Colorado great. 

THIS YEAR | $6.5 MILLION AWARDED • 42,000 ACRES CONSERVED • 19 MILES OF RIVERS AND STREAMS PROTECTED • 4 PROJECTS OF REGIONAL OR STATEWIDE SIGNIFICANCE TO IMPROVE CONSERVATION BEST PRACTICES • 1 NEW TRANSACTION COSTS GRANT PROGRAM TO SUPPORT LANDOWNERS WHO DONATE PART OF THEIR LAND VALUE FOR CONSERVATION
13.5 million people enjoy our state's 42 state parks each year, and GOCO funding helps Colorado Parks and Wildlife keep up with the demand.
Approximately $15 million in annual funding from GOCO supports park expansions, capital improvement projects, operations, the state trails program, and other programs and facility needs in Colorado's state parks system.
GOCO also picked up the tab for state park entries for the state's first ever "Fresh Air Friday," inspired by REI's Opt Outside campaign to get people out of the mall and into nature on Black Friday.

THIS YEAR | 19 CAPITAL IMPROVEMENT PROJECTS FUNDED AT 10 STATE PARKS • 12 PARKS OPERATIONS FUNDED • ADA COMPLIANCE PLANS FOR 4 CAMPGROUNDS AND 1 CAMPER SERVICES BUILDING • 2 NEW FISHING PIERS AND 3 BOAT RAMPS IN THE WORKS • 37 NEW SHADE SHELTERS TO BE INSTALLED • 5,646 VOLUNTEER HOURS RECORDED • $1M INVESTED IN YOUTH PROGRAMS • 7 TRAILS FUNDED • 24 FAMILY NATURE NIGHTS HOSTED • 38 INTERNS EMPLOYED BY GOCO FUNDING 

GOCO awards approximately $15 million each year to support Colorado Parks and Wildlife's efforts to preserve and improve wildlife habitat and to help protect the hundreds of diverse species that call our state home.
GOCO funds also support watchable wildlife opportunities as well as dozens of wildlife festivals across the state in rural communities that benefit from the festivals' economic impact. 

THIS YEAR | $1.4M INVESTED IN WILDLIFE EDUCATION • 32,815 ACRES OF HIGH-PRIORITY HABITAT FUNDED FOR CONSERVATION • 1,010 VOLUNTEER HOURS RECORDED • 140 ORGANIZATIONS VOLUNTEERING FOR RIVER WATCH, COLLECTING DATA ON EVERY WATERWAY IN THE STATE • 28 SPECIES SUPPORTED • 44 INTERNS EMPLOYED BY GOCO FUNDING
GOCO grants are awarded through competitive grant programs for local governments and land trusts. All of our grant programs require matching funds for any grant request.
Half of GOCO's funding is directly invested in Colorado Parks and Wildlife, which submits an investment proposal to the GOCO Board each year detailing how GOCO funds will be dispersed across the agency's facilities and programs. For more information on how GOCO funding impacts CPW, visit cpw.state.co.us.
A vast majority of GOCO funding is distributed on a reimbursement basis, meaning grantees must submit budgets and documentation of their expenditures before receiving funds.
FY 2016 ran from July 1, 2015 to June 30, 2016. GOCO received $63.7 million from the Colorado Lottery consistent with our constitutionally defined revenue cap. This cap is adjusted each year for inflation; for FY 2017 it is set at $64.5 million, though GOCO budgets revenue conservatively and under the full cap amount.
This year was also one of GOCO's biggest yet, awarding $64.3 million across 11 grant programs. GOCO maintained operating costs of 5.2% during FY16, significantly below the average for Colorado foundations and non-profits.
For our complete FY 2016 financial statements, visit GOCO.org/finance.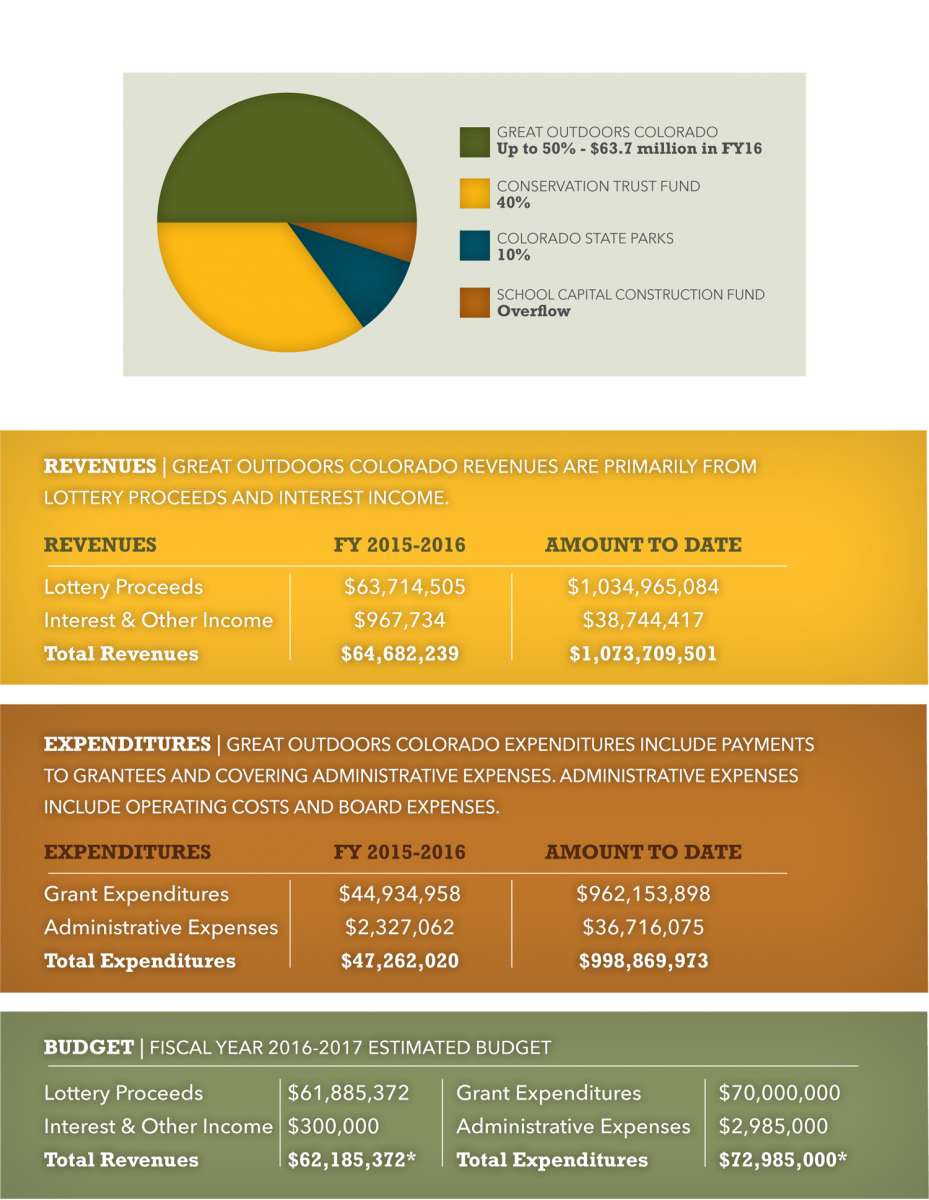 The Great Outdoors Colorado Trust Fund was created in 1992 when voters approved Amendment Article XXVII to the Colorado Constitution to allocate Colorado Lottery proceeds.
It directs a portion to GOCO for projects that preserve, protect, and enhance the state's wildlife, park, river, trail, and open space heritage, and it created a board of trustees to govern distribution. The text is available at GOCO.org/amendment.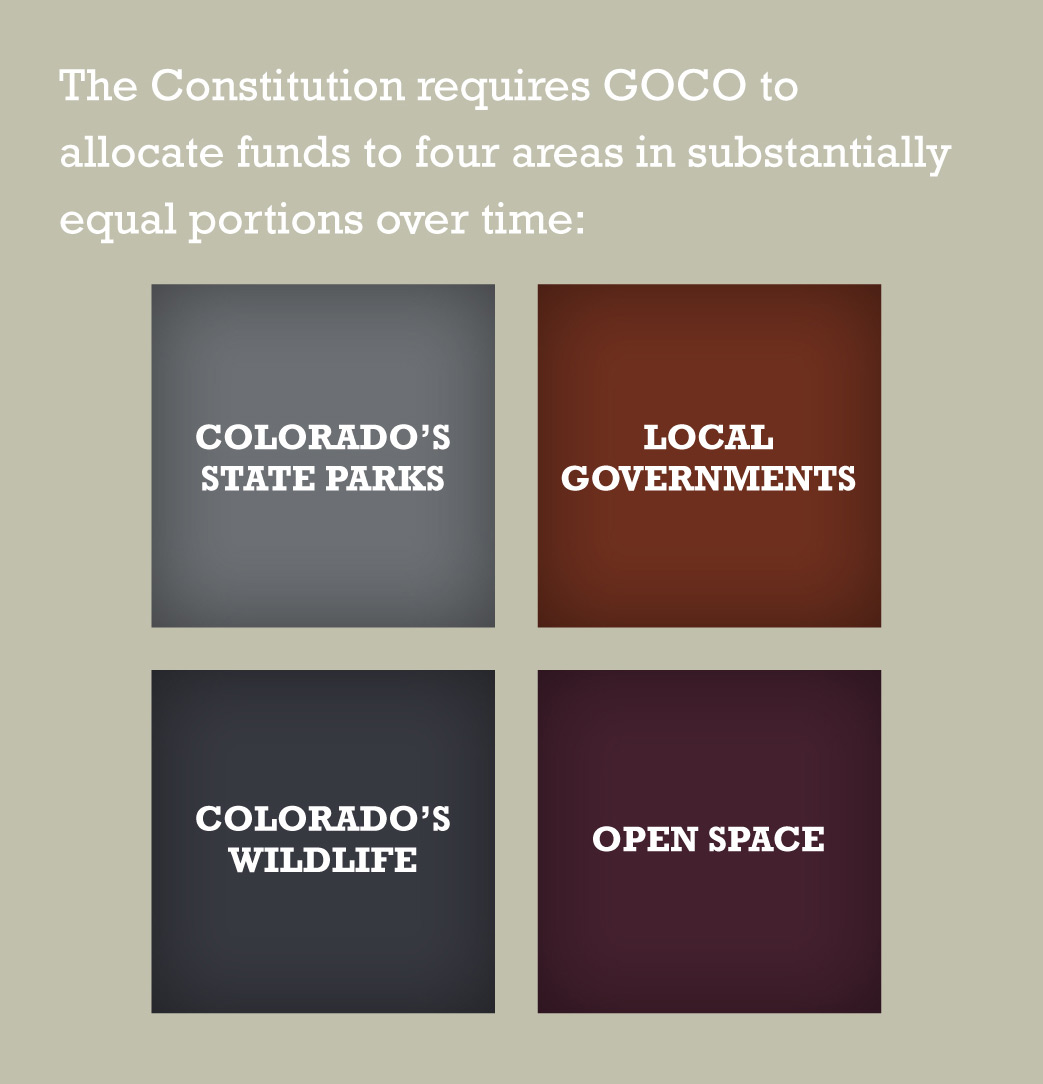 An Independent Board 
Board members serve the role of approving GOCO funding of projects, new grant programs, and the organization's financial plans—remaining responsive to communities' needs and accountable as trustees of public funds.
Board members are appointed by the Governor and subject to confirmation by the Colorado State Senate. The 17-member board includes two members of different political parties from each of the state's seven congressional districts. Learn more at
GOCO.org/board
.
Members by Congressional District
1: Katherine Cattanach (R), Hollie Velasquez Horvath (D), both Denver
2: Jenn Dice (U), Boulder; Tony S. Lewis (D), Longmont
3: Tom Burke (R), Grand Junction; Alan Schwartz (D), Crested Butte
4: Chana Reed (R), Lamar; Jody Rogers (U), Yuma
5: Heather Carroll (D, chair), Dave Palenchar (R), both Colorado Springs
6: Jason Brinkley (R), Linda Strand (D), both Aurora
7: Jacy Rock (U); Karma Giulianelli (D), both Golden 
State agency representatives
Natural Resources: Bob Randall
Parks and Wildlife Commission: John V. Howard, Jr. and William G. Kane 
GOCO Leadership
Jim Spaanstra, Executive Director Peter Ericson, Chief Operating Officer 
GOCO UPDATES
In May 2016 GOCO bid a fond farewell to longtime executive director Lise Aangeenbrug who moved on to the role of executive vice president at the National Park Foundation. Esteemed board member Jim Spaanstra, who was partner at law firm Faegre Baker Daniels, took on the role of GOCO executive director while the board searches for a successor. 
GOCO has relocated offices. Our new address is 1900 Grant St., Ste. 725, Denver, CO 80203. 

1900 Grant St., Ste. 725
Denver, CO 80203
303.226.4500
info@GOCO.org
GOCO.org
Great Outdoors Colorado (GOCO) invests a portion of Colorado Lottery proceeds in Colorado's trails, parks, wildlife, open spaces, rivers, playgrounds, and Youth Corps. Colorado Parks and Wildlife programs and facilities receive half of GOCO's funding each year, and the other half is administered through our competitive grant programs.
Created by a vote of the people in 1992, GOCO is managed by an independent board and uses no tax dollars. Lottery proceeds also directly support state parks, the Colorado Conservation Trust Fund, and school capital construction.
A Colorado Lottery Beneficiary