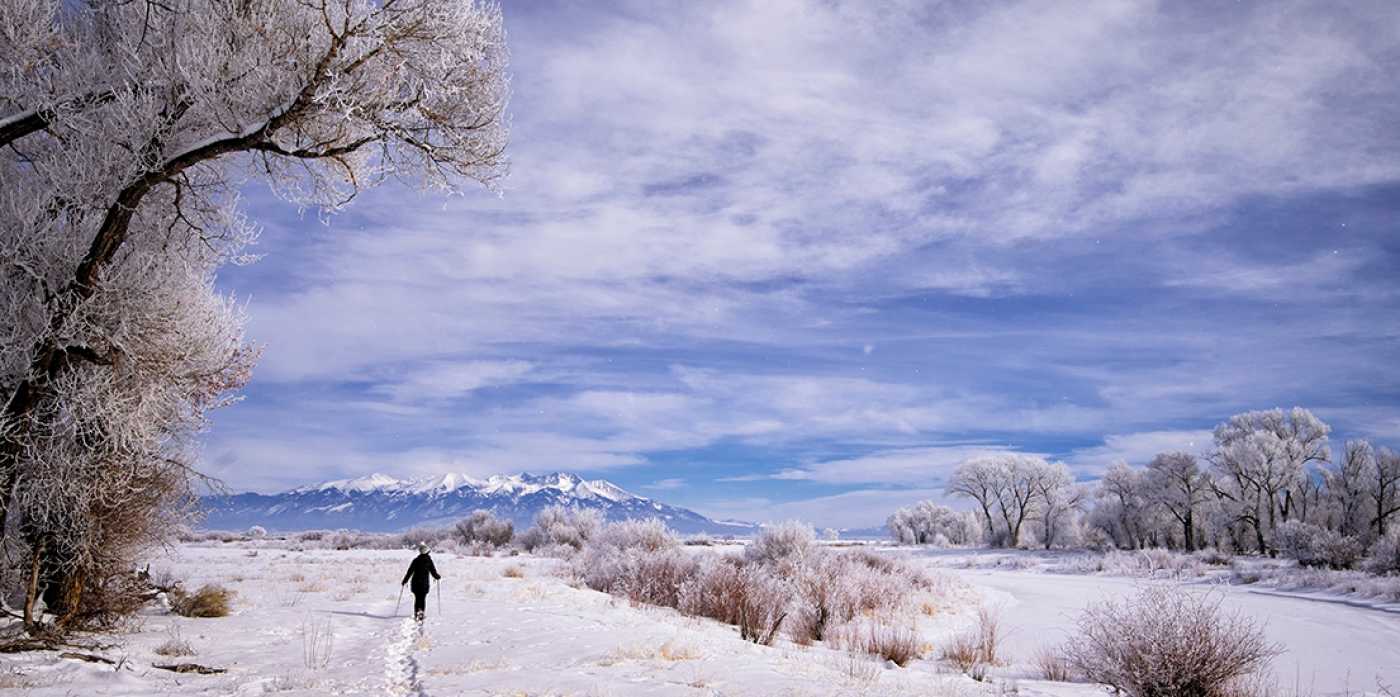 Photo by Christi Bode
Republished with permission of Western Rivers Conservancy
This article is part of our Impact Stories series, stories that celebrate the unique ways GOCO partners have enhanced and supported Colorado communities, our quality of life, and our state's wildlife. Since 1992, GOCO funding has been invested in more than 5,200 conservation and recreation projects in all 64 counties – with benefits for all Coloradans.
In Colorado's San Luis Valley, Western Rivers Conservancy is forging ahead with an exciting project near the city of Alamosa that brings community, conservation and wellness together on the banks of the Rio Grande. This winter, the project received a critical funding boost from Great Outdoors Colorado (GOCO), which ranked it its top-priority Open Space Project in 2018.
The Rio Grande flows along the northeast flank of Alamosa, but the river can be difficult to access. Several years ago, the city set its sights on improving health and wellness for residents by making the river easier to get to and enjoy. WRC is now making that a reality. We purchased two properties from local landowners who share this vision, and we will transfer the lands to the city. The result will be the Alamosa Riparian Park, a beautiful tract of public open space along more than a mile of the Rio Grande, with shade-giving cottonwood trees, a lush riparian corridor and trails for walkers, cyclists, birders, cross-country skiers and others to enjoy year-round.
The new park will connect to the city's existing 108-acre Oxbow Recreation Area and the City Ranch, while complementing access to the Rio Grande Farm Park, Cole Park and the nearby Alamosa National Wildlife Refuge. In addition to connecting these open-space corridors for people, the project will add to an outstanding assemblage of protected habitat for wildlife.
WRC purchased the land last year, and the community has shown tremendous support as we work to transfer the properties to the city. Supporters of the project include Alamosa County, San Luis Valley Health and San Luis Valley Federal Bank, as well as local foundations including the Gates Family Foundation, The Outcalt Foundation, Trinchera Blanca Foundation and El Pomar Foundation. And, of course, the city of Alamosa itself.
The LOR Foundation, a longstanding WRC partner that works to strengthen communities through conservation, has been a major supporter of the project. The foundation has been central to our conservation efforts throughout the San Luis Valley, and the new Alamosa Riparian Park is poised to be a resounding success, bringing conservation and community together to benefit people, the community, wildlife and the Rio Grande.
GOCO's support is a reflection of the tremendous importance of this project and sets it on the path to completion. GOCO is a voter approved trust fund that invests up to half of Colorado Lottery proceeds into improving the state's trails, parks, wildlife, open spaces and rivers. Gaining its backing is a tremendous boon and will allow us to transfer the lands to the city by fall of this year.