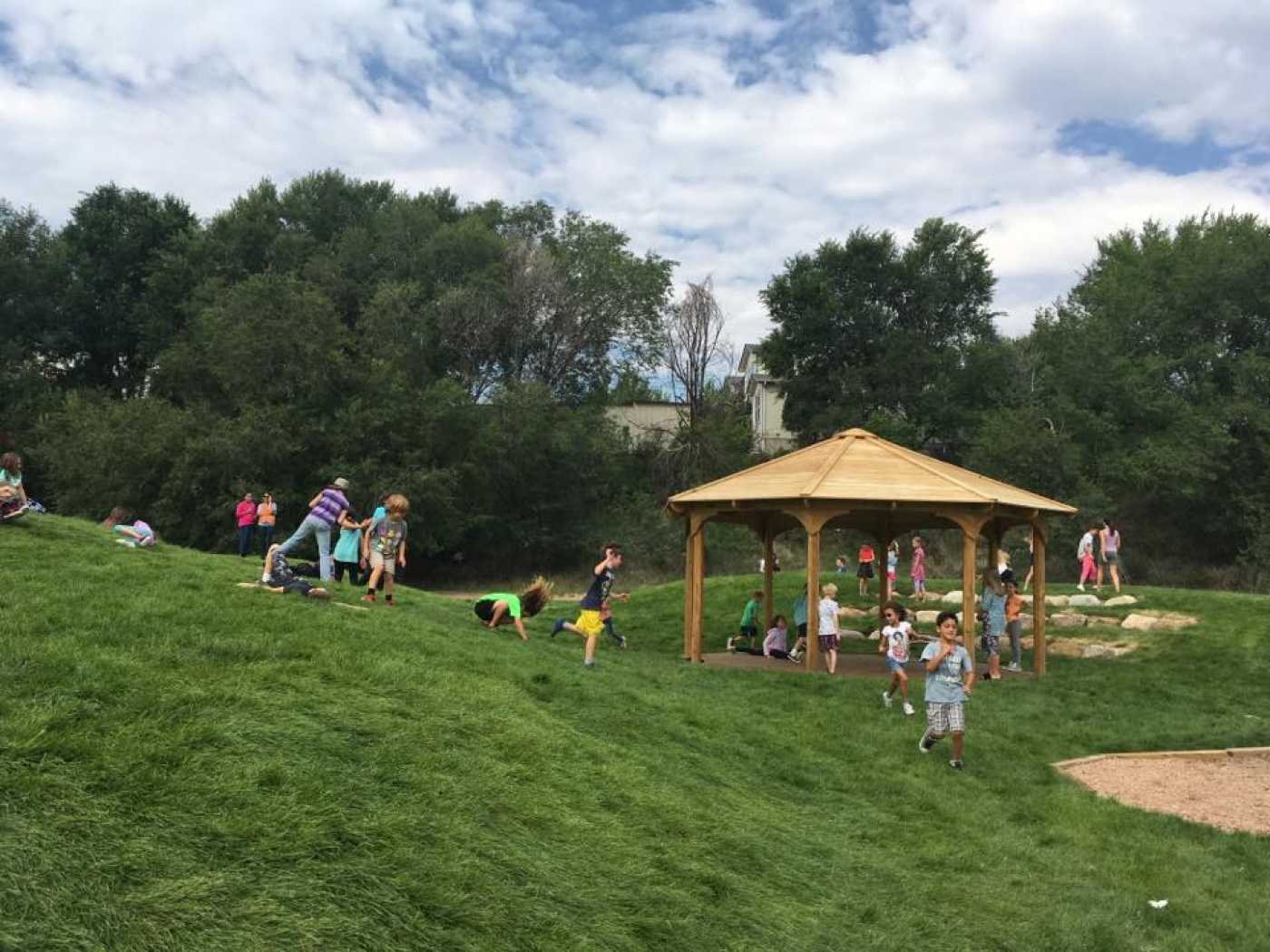 Forest Green at Pike Park (Photo Credit: The Academy of Advanced and Creative Learning)
There's a lot of fanfare around grant awards, but what happens after the ceremonial checks are presented and the reporters have published their articles? Our partners get down to business.
For 26 years, GOCO has improved Colorado's great outdoors with the help of Colorado Lottery proceeds. We've put more than $1.2 billion in proceeds back into 5,200 projects to improve the lives of Coloradans across the state.
After projects are awarded funding, grant recipients have about two years to make their projects happen. In February, five projects closed, representing just over $456,000 in GOCO investments into local communities across the state. Scroll to see if one's near you:
Forest Green for the Academy of Advanced and Creative Learning
$110,000 grant to the City of Colorado Springs
The Academy of Advanced and Creative Learning, in partnership with the City of Colorado Springs, used GOCO funds to improve its playground and outdoor programming. The one-acre space is broken down into multiple activity areas, each inspired by different forests found in books ranging from Winnie the Pooh to Lord of the Rings. The new space offers a castle, slide, and climbing wall structures for children to enjoy and promotes a connection to literature and imagination. Read more about Forest Green's unique design >>
Generation Leadership
$60,750 grant to Palmer Land Trust
Palmer Land Trust launched its Generation Leadership Project to engage and mobilize millennial and Generation X members of the Colorado Springs community as champions for land conservation. The project is built on Palmer's recent strategic plan to align the trust's goals with community engagement and empowerment. Palmer established a millennial and Gen-X advisory board, has hosted a series of community events, and developed and implemented an awareness-building campaign through its website, blogs, social media, and video platforms. Read about the Generation Leadership Project >>
Maloit Park - Eagle Valley Outdoor Movement
$20,000 grant to Eagle County
Eagle Valley Outdoor Movement is a Generation Wild coalition that aims to connect youth and families to outdoor recreation and education. The coalition received a GOCO grant to improve its outdoor programming by providing greater access to open spaces and inspired play. Maloit Park will provide the coalition's communities with safe trails, new obstacle courses, and access to the national forest along the Town of Minturn. See where the state's 15 Generation Wild's coalitions are based >>
Mountain View Adventure Park
$209,175.35 grant to the City of Cripple Creek
The City of Cripple Creek used its GOCO funds to create a 163-acre park that offers multiple outdoor recreation amenities. Mountain View Adventure Park includes a multi-use trail, disc golf course, sledding hill, adventure playground, BMX track, picnic shelter with ADA accessible picnic tables, ponds, and dog park. The park provides a wide variety of outdoor recreation amenities for visitors of all ages and abilities to enjoy. Check out Mountain View Adventure Park's features >>
Town of Naturita Parks and Recreation Master Plan
$56,250 grant to the Town of Naturita
In the Town of Naturita, imminent closure of the area's coal mine and powerplant has begun to impact the community. With its GOCO grant, the town assembled its first-ever parks and recreation master plan to develop four parks along the San Miguel River. These parks will serve to promote outdoor recreation and diversify the town's economy. Naturita's master plan aims to provide its residents with a better quality of life and provide long-term economic stability for the community. Check out other GOCO-funded projects in Montrose County and elsewhere >>