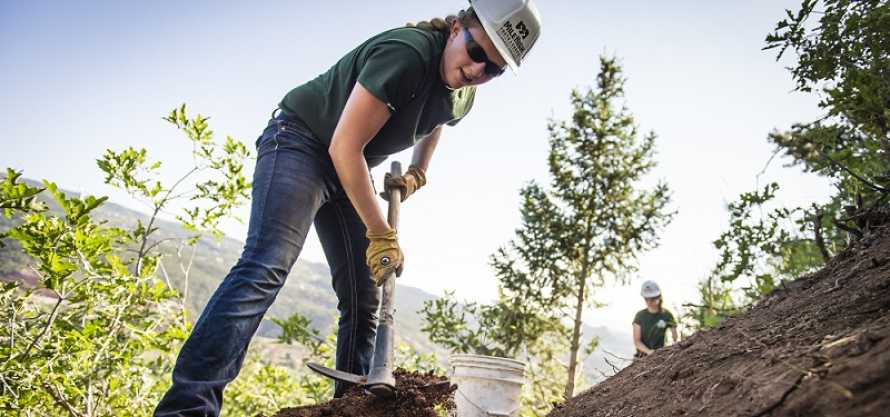 Mile High Youth Corps working on the Intemann Trail near Manitou Springs, CO. Photo by Sean Sheridan.
In partnership with the Colorado Youth Corps Association, GOCO offers $500,000 in funding each year to local governments to hire youth conservation corps for land, water, and energy conservation projects on permanently conserved properties. Another $500,000 is offered through GOCO funding to Colorado Parks and Wildlife.
CYCA is a statewide coalition of nine accredited youth conservation corps that employs and trains youth, young adults, and veterans (ages 14 – 25). CYCA serves 1,700 young people each year.
 Youth corps crews complete a variety of projects, including:
Trail construction and maintenance
Tamarisk, Russian olive, and other invasive species mitigation – chainsaw crews, including pesticide/herbicide application, are available
Fence installation and de-construction
Wildlife habitat improvement
Riparian restoration
Beetle kill hazard mitigation – chainsaw crews available
Fire Fuels mitigation – chainsaw crews available
WHO CAN APPLY
Cities, counties, parks and recreation districts, and land trusts are eligible to apply. Eligible entities can sponsor projects on behalf of school districts, unincorporated cities and towns, community groups, and other ineligible entities.
There is no maximum grant request, but applicants must request at least two weeks of work. Youth corps crews work on a "per week" basis. One week includes 8-10 people who work at least 320 hours collectively. 
For GOCO-funded projects, CYCA acts as foreman and oversees all projects, significantly streamlining the process for grantees.
how to apply
All proposals must be submitted to CYCA according to instructions included in the RFP, found at www.cyca.org.
when to apply
August 1, 2019: RFP available at www.cyca.org
September 19, 2019: Applications due to CYCA
December 10, 2019: Grants awarded
Questions?
Contact CYCA Executive Director Scott Segerstrom at ssegerstrom@cyca.org or visit www.cyca.org.