Estrella joined the GOCO Programs team (Southwest Region) in Summer 2021. 
What did you do before you came to GOCO?
Prior to GOCO, my work has been largely in the ski industry in Colorado. I've worked with partners ranging from local and state stakeholders, to global tour operators to promote destinations across the state. In addition, I worked with United Way of Mesa County managing their annual fundraising campaign to allocate funds to local health and human service nonprofits.  
What brought you to GOCO?  
There is a saying, "Luck is a combination of preparation and opportunity." Over the last year I had been doing an intentional deep dive into what I wanted the next chapter in my work world to look like. What surfaced was the desire to be of service in a way that directly supports health and wellness for local communities and the environment. When the opportunity arose with the creation of GOCO's regional officers, the job felt in alignment with exactly what I want to be doing, working with partners to support outdoor recreation and conservation projects and programs for residents and visitors alike. I feel very fortunate to be part of the GOCO team!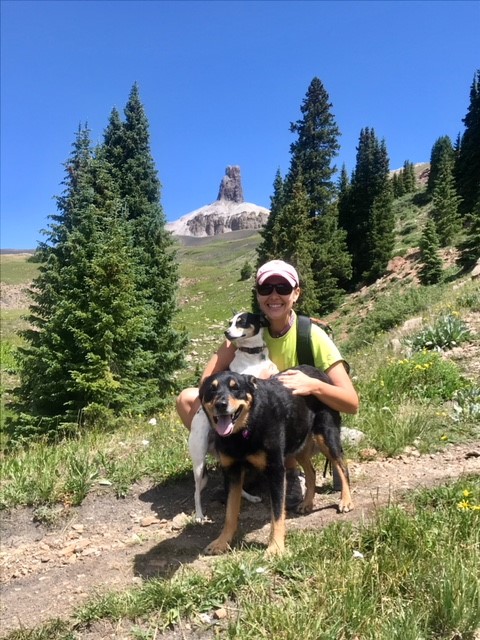 What has been your favorite part of working here so far?
At the time of writing this, I'm only a few weeks into the new job, and soaking up all things GOCO like a sponge. I'm enjoying meeting the people and learning about what is happening in local communities. Moving forward, I'm excited to transition from virtual meetings to more in-person meetings. There has been a lot of positive feedback about GOCO's new regional approach, and I'm looking forward to spending time with our partners in the southwest. 
What is your typical day like?
My day starts with a cup of strong coffee (or two!), and a short walk on our dirt road with our dogs Lucy and Oscar. Then diving into work, and so far, each day looks a little different. It can range from meetings, site visits, learning about projects, and planning for the new few months.
What are some of your favorite things to do outdoors? 
I love to walk in the woods! That has been a common theme throughout my life, starting as a child in the rural town of Buckfield, Maine. That formed a big part of my early childhood, wandering on our land, climbing trees, and generally tramping around outside with the little tribe on our road. That connection to nature has been an important part of my life. I enjoy doing the active part of recreating outside, mainly hiking, biking, skiing and Nordic skiing. I also enjoy the quiet, contemplative moments in nature of sitting by a stream or watching the birds. It all brings me joy.   
Where is your favorite place to get outdoors in Colorado?
Locally, some of my favorite spots are the Blue Lakes and Blaine Basin trails outside of Ridgway and Sand Canyon/Canyon of the Ancients outside of Cortez. The geography of these trails is so different and really speaks to diverse ecosystems in SW CO. I can go in either direction and find high altitude or high desert. Uber locally, my favorite is a daily walk by the San Miguel River with our dogs!     
What is your most memorable outdoors mishap? 
I have had a lot of fun adventures with friends and family over the years in Colorado. A lot of these missions are affectionately called "Team OTC" aka off the couch. We haven't quite trained to do what we do, but we get out and do it. The most recent example was backpacking the San Juan Hut system for four nights. My husband and I dusted off our twenty-year old backpacking packs and got to it; we hiked the Sneffels Traverse from Telluride to Ouray. We were able to bring our dogs, which was a treat! It was the end of October 2020; there was snow up high and we weren't quite sure what to expect with the trail conditions. We were the only ones staying in the huts at that time of year. We saw a handful of hunters and no other hikers. It was a perfect "socially distanced" trip during the pandemic!
We had some MacGyver moves, including using a dog poop back and first aid tape to seal a leaky boot (it didn't quite work). There was a momentary loss of the hut key after the first night, which caused me some stress since we had three nights to go and that was our only way of getting into the other huts. And it was definitely cold at night; we wanted to be inside! The key was found in the snow on the way to the outhouse and we continued on our way.
There is usually a "Suffer Fest" element of these trips and for me it was on day three. It was mid-afternoon and we thought we were further along on the trail than we really were, so mentally I felt a bit over it. We came out of the woods, and there was a beautiful open meadow with a Steep. Muddy. Hill. No zig zags, just straight up. After much scraping of mud and many swear words on my part, we reached the top. 
The last night was at the Burn hut. It was Halloween; there was a giant full moon and we enjoyed gazing at it on the cold clear night. The next day we hiked to the trailhead in Ouray and headed straight to the hot springs and soaked. It was a memorable trip and we got to say "Team OTC has still got it!" because we hadn't done a multi-day backpacking trip in quite some time.     
What is the coolest wildlife you have spotted in Colorado?
A small herd of big horn sheep hang around for a few weeks in the red rock canyon behind our house. To see them during their annual migration is a real treat to witness and a harbinger of spring. I also love seeing the collared lizards when hiking in the Colorado National Monument.