Getting kids outdoors is the cornerstone of our new strategic plan, and it's why we've dedicated $25 million in funding to the Inspire Initiative over the next five years. But connecting with like-minded parents can be just as difficult as getting out on the trail in the first place.
So we brought you an expert – Shanti Hodges, founder of Hike it Baby, an organization dedicated to getting families on the trail with birth to school-aged kids. Colorado boasts ten chapters of free, beginner-friendly hiking groups throughout the Front Range and in Glenwood Springs. Click here to find the chapter closest to you and to find out  more about this awesome organization!
We'll let Shanti take it from here…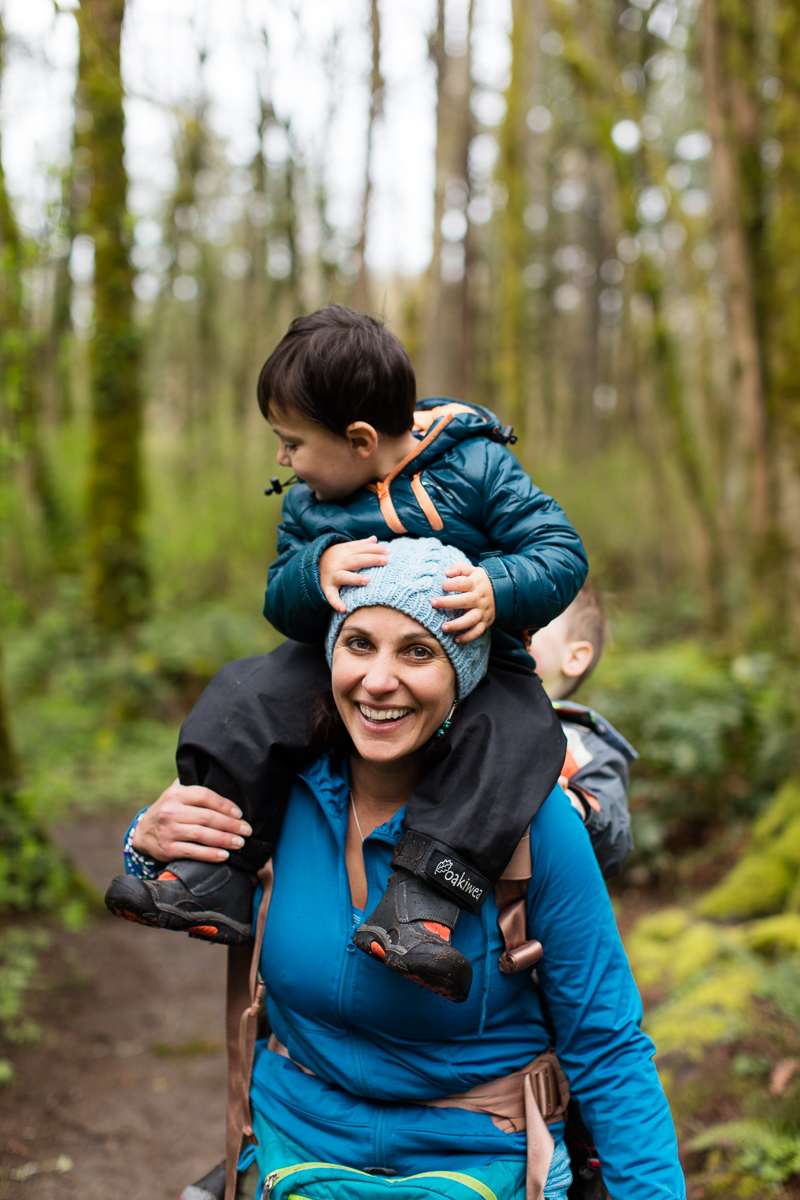 People often think adventuring outdoors with a newborn must have come naturally to me. Or they assume I was just a hardcore outdoors person pre-baby. Nope. Neither was the case. While I now may look like a seasoned veteran now with my almost three-year-old, I only got to this place from a lot of trial and error and advice from others around me. I feel it's my duty to pay this knowledge forward, so here goes for those of you who are hesitant to get on the trail with your little one.
Streamline. Bring what you really need on the trail and nothing more. Two diapers if you have an explosive baby. One bottom change or a onesie. The top won't usually get soiled. One bottle. Leave the rest in the car.
Carriers are key. A quality carrier can make or break whether or not your little one likes to hike. Hand me downs are great, but when it comes to carriers do the research. Try a lot of brands and don't get one because it's cute. Get it because it's really functional and will let you hike an hour or more comfortably without back pain.
Evolution of carrying. An infant won't complain usually about being snuggled up against your chest on hikes. A toddler might throw a fit. Make sure as your child evolves your carrier evolves. When Mason was an infant we used a K'Tan because it was like a sling but had some support and was easy to get on and off. Then we graduated to an Onya Baby for lumbar support as our nugget got heavier. Now we switch between that and a Deuter frame carrier depending on the type of hike and weather. The frame carrier isn't good for a lot of up and down (if this is your child) but it's great when there is weather (sun, rain or snow) and you need space to carry things.
Pick your trail wisely. What may once have been a short hike for you, now could be a pretty epic adventure with a fussy baby. Gauge how your little one is doing. Stop often and if things are going well, honestly assess a turnaround point. Better to start heading back early over having a super unhappy child to battle with at the end of a hike.
Snack it up. If you are at the eating phase, bring snacks you know work. Don't experiment with new foods on the trail. A hangry toddler is not a fun hike partner. I often travel with lollipops or gummy bears on the trail so if things are going bad I have an emergency solution. My son isn't food driven, but a little sweet on the trail will often calm down a tantrum so we can redirect.
Bottle Feeding? If you don't nurse and need to carry milk there are lots of solutions for keeping it cold and warm. Start with frozen packs and put them in your clothes to warm up on a hike with body heat. Also, look into the soup sized thermoses (Hydroflask makes a good one) and put hot water in. Add a cold bottle to that and heat bottle. Then drop a tea bag in and you are set too.
Pumping on trail. It is possible! There are great small hand pumps that allow you to pump and then put a nipple on it and serve. Easy as that. Look for a nice out of the way bench or a tree in the woods, lay baby down and pump away. I often found myself so relaxed in the woods that my milk flow increased. Could be all of that oxygen and exercise?
Find a tribe. Having a community to help motivate you and show you new trails makes it so much easier. Even now after three years of hiking all around Portland, people in my hike group are continually introducing me to new trails. Also the more kids on a hike together, especially at that three- to five-year-old stage, the more likely they are to motivate each other. We have seen five-year-olds hike six miles because there were other kids to keep them moving.
Different trails for different ages. As your child ages up, different trails will work for him or her better. With little ones, you can hike almost anywhere that the footing is good for you. As they get older you will want to be aware of steep drop offs, a lot of turns in the trail and things like falling rocks and slippery roots. New walkers are unbalanced and while trails are an excellent training ground for them, if they fall over every other step it can be frustrating for them. Look at the trail you are adventuring out on with a child's eye. Look at the ground and what's in the way. A little incline for you might be Mt. Everest for a two-year-old.
If all else fails songs and bubbles. One of the easiest ways to deal with child meltdown is serious distractions. Bubbles and songs can help a lot with this. I am a terrible singer but I have gotten pretty good at "Wheels on the Bus" and "We're Going on A Bear Hunt" (this is a book that has a song-like feel). Bubbles combined with song can really help move the hike along and get you through rough patches.
Shanti Hodges plans on using some of her own advice in April when she heads out on the road with Mason to hike 30 hikes in 30 days in 15 cities. She will be in Colorado from April 15-24th hiking with families. Look for her schedule on Hike it Baby.
Great Outdoors Colorado (GOCO) invests a portion of Colorado Lottery proceeds to help preserve and enhance the state's parks, trails, wildlife, rivers, and open spaces. GOCO's independent board awards competitive grants to local governments and land trusts, and makes investments through Colorado Parks and Wildlife. Created when voters approved a Constitutional Amendment in 1992, GOCO has since funded more than 4,700 projects in urban and rural areas in all 64 counties without any tax dollar support. ​