This article is part of our Impact Stories series, stories that celebrate the unique ways GOCO partners have enhanced and supported Colorado communities, our quality of life, and our state's wildlife. Since 1992, GOCO funding has been invested in more than 5,200 conservation and recreation projects in all 64 counties – with benefits for all Coloradans.
Rodeo is a verb in Kim. Moms rodeo; kids rodeo. But for years, residents of the southeast Colorado ranching town had to travel to Denver or Colorado Springs to pursue their beloved sport. With the help of three Great Outdoors Colorado (GOCO) grants, that started to change nine years ago.
"We are a small ranching community. There is no other sustaining industry," says RC Patterson, who grew up on a ranch in Kim. "We've been struggling to maintain a sustainable population here." Rather than search for an outside industry, like a prison, to boost the economy, the community in and around Kim wanted to breathe life into the area in a way that preserved the area's heritage. They approached GOCO with an idea to build an equine pavilion and education center. "We wanted to save [our town], but we didn't want to ruin it in the process," says Patterson, chairman of the Pavilion's board. "Rodeo is our sport. It came from the ranching industry. This is its natural home."
GOCO investments are aimed at protecting and enhancing Colorado's outdoor recreation heritage and conserving land across the state's rural and urban areas. The nonprofit Mustang Pavilion, as locals refer to it (the mustang is the local school mascot), was funded with $1.1 million from GOCO over three separate phases, as well as private funding from the Gates Family Foundation and the El Pomar Foundation and in-kind support from the community. "We contributed $1.1 million, but what the local community was able to do with that by working together compounded that investment," says Jake Houston, GOCO's local government program manager at the time of the project.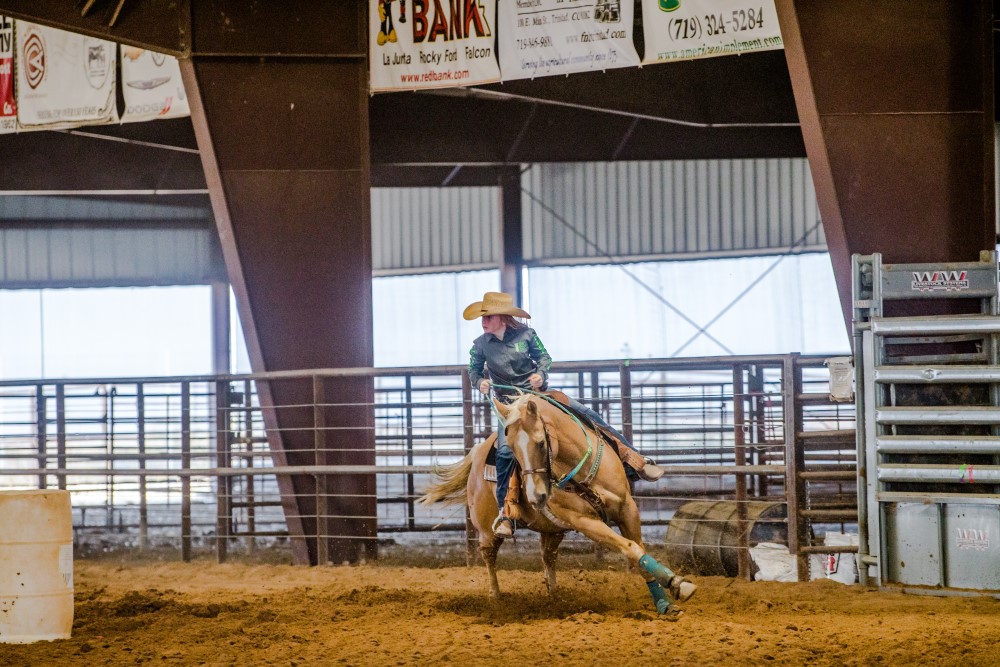 Residents stop by the 20-acre property regularly to practice roping and riding. The venue, which is currently all volunteer-run, hosts around 100 events annually, including National Little Britches Rodeo Association competitions, 4-H events, fundraisers, and even wedding receptions. JJ Autry grew up on a ranch north of Kim; his daughter is highly competitive in youth rodeo. "The Pavilion has stepped up our ability to practice throughout the year, to make ourselves competitive at that higher level," he says. It's also served as a place to spend the night when heavy rains prevented their family from driving 50 miles home.  
Kim's economy has seen a boost since the Pavilion's opening. The school, once close to being shut down, has been rebuilt. Some local businesses, including the motel, have reopened. Younger families have been drawn to the region. "There's been more and more people my age that are moving back to the ranches to raise our kids in the ranching lifestyle," says Brady Burnham, 38. His wife is a fifth-generation Kim rancher. "It sure has been nice to raise our kids on the ranch and go to a small community school and have that Pavilion after school where they can go ride and practice," he says.
Jacob Kindler, who moved his family from Kansas four years ago, agrees. "[The Pavilion] helps us solidify the next generation," he says. "It's special to us."