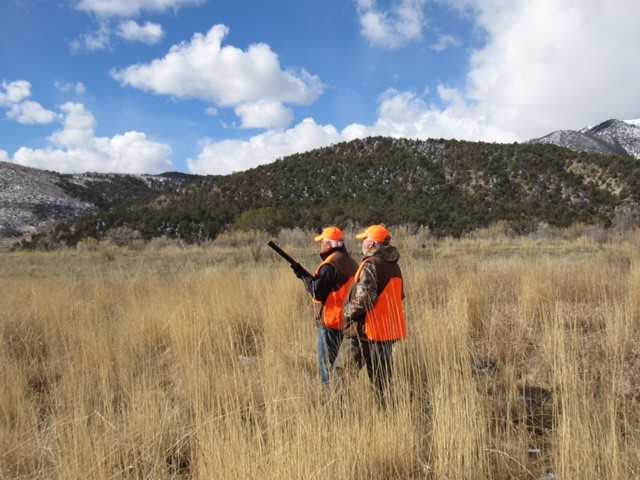 Jim Spaanstra has dedicated a decade's worth of service to GOCO, both on its board and as executive director for the last year. In addition to being a brilliant leader, Spaanstra is also an avid adventurer.
One of his final assignments as GOCO's ED took him into the field for four days of hands-on hunting awareness and conservation education with Conservation Leaders for Tomorrow (CLfT). The professional development program was designed for leaders within the natural resource field and blends interactive classroom discussion with real-world experiences.
Jim shares his experience here.
How was your week?
It was awesome. I was a tad skeptical going in. I think I was worried that it was going to be sort of an evangelical sales pitch for hunting as a sport, but the experience was much more nuanced than that.
The target audience is rising stars in the conservation community who work for state departments of natural resources or for similar federal agencies like the US Fish and Wildlife Service and BLM. One of the criteria is that you've never hunted in your life. While I question whether I meet the "rising star" criteria in any respect, but I had never shot a firearm. Ever. So they let me in.
So, you didn't have to have any experience even shooting a gun?
That's what they want. Most of the folks who showed up had at least practiced before. I hadn't. I fired a shotgun for the first time in my life.
What was that like?
I was nervous about looking foolish (a common concern for me, in most any context), or not being able to hit anything. But they did an incredible job educating us about hunter safety and firearm safety, and then we practiced with dummy rifles and shotguns. So, when it was actually time to fire live ammunition at clay pigeons, we were comfortable. We knew what we were doing.
I hit my very first clay pigeon. Maybe beginner's luck, but I did! I un-cocked the rifle, put the safety on and said "I'm done." [He laughs.]
What did the lectures cover?
It was a very intense experience. It was from 7:15 in the morning to 9:00 at night. There was an array of lectures about issues like hunter safety and hunter ethics, but also information about how this activity fits into wildlife management, conservation more generally, and education on things like the North American Model for Wildlife Management.
Was there anything that you were surprised to learn?
I think the whole discussion about hunting ethics I might have been a bit surprised about. There is expansive history and literature about virtually every hunting scenario one can think of analyzing "the right thing to do."
What was particularly valuable to me were the interactions with the other folks there to learn. Our class included 13 of us from all over the country, from Maine to Washington, including Georgia and Arkansas. Most were women – there were only three men. [The group included] rising stars in wildlife management agencies around the country, ranging from people who were perfectly excited about learning how to hunt to people who were in tears on the first night when we talked about how we felt.
Where did you fall in this spectrum?
My son Evan had done some hunting. My brother-in-law has been trying to get me to go bird hunting on Thanksgiving weekend forever. But the Michigan-Ohio State football game is usually on that weekend…[laughs]
I was certainly intellectually curious about it all. As I said, I started firmly skeptical about it. Whether it just would be "get the hunting religion." The experience exceeded my expectations – hugely. I found the whole experience to be extremely valuable. At every step, the instructors would identify issues on whatever the topic is – "Okay, there's nothing black and white about this. Let's talk about policy issues, ethical issues, regulatory issues." And it was fascinating to hear various perspectives of folks. I was the only lawyer in the group, so they had fun dumping on me, but it was kind of cool because I could add that perspective.
Why did you decide to do this?
When a state park manager shared her experience with the program at the GOCO Board meeting in Limon a year ago, I was in line to become chairman of the board soon, so I thought I could demonstrate GOCO's support and interest for hunting as a board member. And then I became executive director, so it was probably even a better thing to do.
I was really intrigued [by the whole process], including, you know – you kill it, you clean it, you eat it. And I thought it would be also, personally, kind of an adventure to do something I'd never done.
I'm hoping we could find a candidate from GOCO to go again. Obviously, [resident hunter] Emily can't go.
What was it like to set out and hunt?
I was feeling very nervous. I thought I was going to do something stupid. I'd be the one person to fall, or trip, or kill the dog or something. But once I actually got out there, I realized they had done such a great job of getting us all comfortable with firearms and safety.
I had a person next to me who had probably hunted for 50 years, and Patt Dorsey, who is the Southwest Regional Manager of Colorado Parks and Wildlife (CPW), was there. I was kind of nervous I was going to do something stupid in front of her.
Perhaps the coolest thing were the two dogs. There was an English Pointer variety that would point, and then the black lab would run in and flush the pheasants out. I see the pointer maybe 10 yards in front of me, and I'm getting ready, and the lab goes in and the pheasant is right there in front me. I pulled the trigger…. and I had forgotten to flip off the safety. I was embarrassed. But Patt said, graciously, that everybody has done that.
Did this change your perspective about hunting or the work CPW does?
Certainly. I can understand why hunters are maybe a little evangelical about it. I get the passion that they bring to it.
Having these folks who are passionate hunters also speak passionately about conservation, including the need for habitat conservation and wildlife management, really helped me understand why they like the sport and their passion behind it.