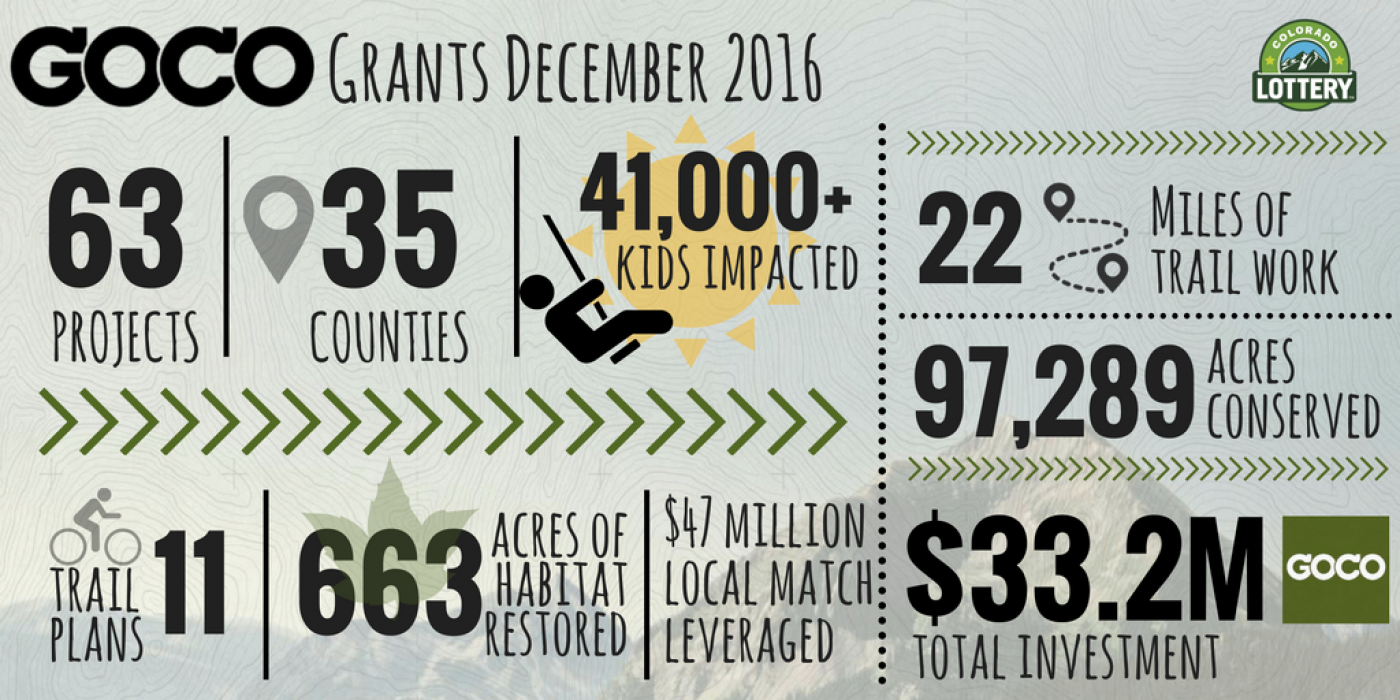 DENVER – The Great Outdoors Colorado (GOCO) Board awarded $33.2 million in grants across the state of Colorado, $13.5 million of which is part of the Inspire Initiative to get kids outside.
Six Inspire pilots were awarded funding to community- and youth-led coalitions to invest in places, programs, and pathways to that will make the outdoors more accessible for Colorado families.
All three pillars of GOCO's five-year strategic plan awarded funding this round, with the Protect and Connect initiatives also announcing grants.
The Protect Initiative invests in large-scale, once-in-a-lifetime land conservation opportunities in Colorado and funded four more projects this grant cycle. The Connect Initiative, which aims to close trail gaps and increase foot and bike access for Coloradans, awarded its first round of planning grants to help municipalities navigate the complicated design and engineering process of trail building.
The open space grant program awarded funding to 11 projects that will sustain local agriculture and economies, give outdoor recreationists a place to play (or simply enjoy the view), protect wildlife habitat, and safeguard the state's water supply.
The conservation easement transaction costs grant program also awarded funding to help landowners place conservation easements on their land. To be eligible for the program, landowners are required to donate the entire value of the conservation easement for the project.
GOCO also funded grants through its habitat restoration grant program, which funds projects that manage invasive species, protect Colorado's water supply, mitigate fire fuels, and perform other critical restoration work.
GOCO also awards Youth Corps funding through the Colorado Youth Corps Association (CYCA), a statewide coalition of nine accredited youth corps groups that engage and train youth, young adults, and veterans (ages 14-25) to work on land, water, and energy conservation projects.
Corps members earn a stipend for their full-time service and an AmeriCorps education award to use toward college or trade school. The organization serves 1,700 young people annually.
In total, GOCO funding will:
Fund 63 projects in 35 counties.

Help nearly 42,000 kids get outside in six Inspire Initiative pilot communities

Employ 175 youth through the Colorado Youth Corps Association

Restore 663 acres of habitat

Leverage $47 million in local match dollars and $17 million in donated land value
Conserve 97,289 acres of land, including critical wildlife habitat, productive agricultural land, scenic views, and outdoor recreation access
Project details are in alphabetical order by grant program as follows:
CONNECT PLANNING GRANTS - $1 MILLION TOTAL FUNDING
Carbondale to Crested Butte Trail Plan, $100,000 grant to Pitkin County
The Carbondale to Crested Butte Trail will ultimately link the two communities, and is a big step forward in realizing a community vision that began in the 1990s. GOCO funding will help complete a trail plan that identifies routes for current missing links and helps partners begin the National Environmental Policy Act (NEPA) evaluation process, which will assess environmental impacts of the proposed project. City of Fort Morgan Trail Master Plan, $100,000 grant to the City of Fort Morgan
The City of Fort Morgan will identify and plan ways to increase access to parks and schools as well as regional connection points in other areas of Morgan County. In addition to considering a regional vision for trails, Fort Morgan will look closely at how to develop a trail system within the 300-acre Twamore Farm open space.
Clear Creek Greenway: East Idaho Springs Planning, $100,000 grant to the City of Idaho Springs in partnership with the Clear Creek Greenway Authority (CCGA)
Idaho Springs and CCGA will complete design and engineering work on the eastern portion of the trail, which will ultimately connect the eastern downtown area to trail networks all the way to Golden. Once built the trail will improve access to Idaho Springs from the Denver metro area while improving local pedestrian and bike access for year-round residents. The project is a "16 in 2016" trail.
Complete the Ring Planning Project: $100,000 grant to the City of Colorado Springs in partnership with the Trails and Open Space Coalition (TOSC)
The Ring the Peak Trail is a vision decades in the making to build a contiguous trail loop around Pikes Peak. GOCO funding will hire a planning consultant to help TOSC navigate environmental and trail alignment obstacles, moving the project forward and facilitating the completion of the final 8- to 12-mile gap in the southwest portion of the trail. The project is a  "16 in 2016" trail.
Delta Trails Master Plan, $100,000 grant to Delta County
GOCO funding will help the county develop its first trails master plan to guide future construction. Delta County will coordinate with its towns and other municipalities to establish a plan to connect them with bike, pedestrian, or equestrian access.
Evergreen North Lake Trail Planning Project, $100,000 grant to Evergreen Park and Recreation District (EVPRD)
EPRD will conduct an engineering study and preliminary design plans for the North Lake Trail on Evergreen Lake. The trail faces urgent stability and drainage issues that forced its closure earlier this year. The planning effort hopes to redesign the trail segment to separate cyclists and pedestrians, provide areas for wildlife watching and fishing, and become ADA-compliant.
Greenhorn Valley Trails Master Plan, $73,000 grant to Colorado City Metro District
Colorado City will hire design professionals to engage the car-reliant community in thinking about walkable and bikeable access from neighborhoods to parks, schools, local businesses, and other destinations. A connected trail system will significantly benefit quality of life for residents by improving ADA-access, promoting healthy living, and bolstering community identity.
LoVa Trail Phase III, $75,000 grant to the City of Glenwood Springs
Glenwood Springs will hire a consultant to evaluate right-of-way issues and environmental impacts of trail construction for the South Canyon Section of the Lower Valley (LoVa) Trail, in addition to completing preliminary pedestrian bridge design and cost estimates. The project is a "16 in 16" trail.
Namaqua Trail Underpass, $97,000 grant to the City of Loveland
Loveland will conduct an environmental analysis and prepare design and construction documents for a trail segment and underpass at Namaqua Avenue. The segment will close one of three remaining gaps in the city's 18-mile looped recreation trail, and provide 41,000 residents with safe access to work, parks, schools, and neighborhoods once complete.
Palisade Plunge, $90,000 grant to the Town of Palisade
The Palisade Plunge is the town's vision to create an iconic downhill mountain biking trail from the top of Grand Mesa to the valley floor. It will build on the Grand Valley's efforts to drive economic development by developing outdoor recreation amenities like trails. GOCO funds will help Palisade navigate environmental issues and the challenges of this multi-jurisdictional project.
Wildcat Trail, $65,000 grant to Thompson Rivers Parks and Recreation District (TRPRD)
TRPRD has worked with students from the University of Colorado's Center for Community Development to conduct master planning for an 11.5-mile trail system from Milliken to Firestone. GOCO funds will allow the district to hire a professional design firm to develop construction documents for a 5.5-mile segment of the Wildcat Trail.
HABITAT RESTORATION GRANTS - $499,532 TOTAL FUNDING
Elkhorn Creek Forest Restoration, $75,584 grant to The Nature Conservancy (TNC) in partnership with the Elkhorn Creek Forest Health Initiative
In partnership with the Coalition for the Poudre River Watershed, Larimer County Conservation Corps, and Wildlands Restoration Volunteers, TNC will restore 35 acres of the Ben Delatour Scout Ranch near Red Feather Lakes. The TNC wildland fire module will manage prescribed burns on the property to restore a healthy forest structure that is critical for wildlife habitat.
Jones Park Bear Creek Greenback Cutthroat Trout Habitat Restoration Project, $75,000 grant to El Paso County
Bear Creek is home to the only naturally reproducing, genetically pure population of greenback cutthroat trout in North America, and nearly 80% of that habitat occurs in Jones Park. GOCO funding will help the county conduct a full stream survey, producing a detailed implementation plan to remove sediment and prevent excessive erosion that impacts the critical cutthroat habitat and will improve the prospect of delisting this federally threatened species under the Endangered Species Act.
Las Colonias Park Riparian Restoration, $29,400 grant to the City of Grand Junction
The city will partner with Ducks Unlimited and the Tamarisk Coalition to build a side channel in the Colorado River, creating habitat for migratory birds and fish and restoring natural water flow to the area. GOCO funding will be directed to revegetate the area with native wetland plants; the project also received $17,550 from GOCO to employ crews from the Western Colorado Conservation Corps to complete the project.
North St. Vrain Creek Restoration in Button Rock Preserve, $60,000 grant to the City of Longmont
GOCO funding will contribute to the extensive restoration effort already underway on the North St Vrain Creek at Button Rock Preserve, which was severely impacted by the 2013 floods. The 3,000-acre preserve supplies Longmont's drinking water, and this project will mitigate barriers for fish passage and runoff from wildfire damage that will protect the water supply and improve wildlife habitat.
Poudre River and Floodplain Habitat Restoration at Kingfisher Point, $100,000 grant to the City of Fort Collins
Fort Collins' 2015 Natural Areas Restoration Master Plan identified this one-mile stretch as the number one priority for restoration work on the Cache la Poudre River. The city will restore the river channel to a more natural state, mimicking naturally-formed riverbanks, expanding cottonwood forests to improve the floodplain, and creating high-quality habitat for wildlife.
Prewitt Wetlands Enhancement, $109,658 grant to Colorado Open Lands in partnership with Ducks Unlimited
Colorado Open Lands will restore 340 acres of habitat adjacent to and on Prewitt Reservoir State Wildlife Area. The project will ultimately impact more than 3,100 acres of the public recreation area, and give water managers increased flexibility to meet users' demands without negatively impacting local ranchers or wildlife.
Rio Grande State Wildlife Area Restoration and Protection Project: Phase 1, $25,000 grant to Colorado Parks and Wildlife
The project will focus on a rapidly eroding section of the Rio Grande; its unstable state threatens wildlife habitat and water delivery to the San Luis Valley Canal and the Centennial Ditch. Restoration of the area will protect water infrastructure, local agriculture, and wetlands that support threatened and endangered amphibians, fish, birds, and mammals.
Swift Ponds Russian Olive Removal and Noxious Weed Eradication, $24,890 grant to Colorado Open Lands in partnership with Colorado Youth Outdoors
GOCO funding will help eradicate Russian olive and other invasive plant species on more than 160 acres of Swift Ponds, the home of Colorado Youth Outdoors. The project will also reduce the likelihood of the trees reseeding downstream by eradicating an upstream stand of Russian olive. Removing Russian olive and other invasive plant species on the property will help the native plant population recover, protect the water supply, and improve habitat and water access for wildlife. The project also received a $41,700 Youth Corps grant.
INSPIRE INITIATIVE - $13.5 MILLION TOTAL FUNDING
Get Outdoors Leadville, $3 million grant to Lake County
Despite being surrounded by world-class outdoor recreation, a significant portion of children in Leadville do not get outside due to physical, cultural, and social barriers. GOL!, led by Lake County Build A Generation through its planning process, brought together more than 70 agency and community members, six youth researchers, and six Latina promotoras to create a vision for getting kids outside anchored by four values - safety, fun, stewardship, and community.
Nature Kids/Jovenes de la Naturaleza, $2.8 million grant to the City of Lafayette
NKJN will focus on a one-square mile area in Lafayette, focusing on a network of public schools serving the lowest income children in the Boulder Valley School District. Nearly 40 organizations, led by Thorne Nature Experience, will work together to take a scaffolded approach to providing a spectrum of outdoor experiences, from the backyard to the backcountry.
My Outdoor Colorado, $2.7 million grant to the City and County of Denver
Denver will pilot its My Outdoor Colorado (MOC) program in the Westwood neighborhood in the southwest portion of the city. The coalition will serve as model for partnership between community-based organizations and local government.
Lack of transportation, gear, awareness, and bilingual and culturally relevant programming are all barriers for kids to get outside, whether in their backyard or the backcountry. GOCO funding will help bring the outdoors to life through meaningful programs and pathways to careers in the outdoors. Programming partners include Denver Parks and Recreation, the Boys and Girls Club of Metro Denver, the Greenway Foundation, and Westwood Unidos. The coalition will work with Volunteers for Outdoor Colorado (VOC), Groundwork Denver, Mile High Youth Corps (MHYC), and The Greenway Foundation for career pathway opportunities.
GoWild NE Metro, $2.7 million grant to the cities of Aurora, Commerce City, and the City and County of Denver
The GoWild Northeast Metro Coalition will serve Commerce City, northeast Aurora, and Denver's Montbello and Northeast Park Hill neighborhoods. GOCO funding will help open new entry points to The Rocky Mountain Arsenal Wildlife Refuge. The coalition will also work to connect youth with Barr Lake State Park and will create safe, close-to-home outdoor places for kids.
GoWild will also invest programming through the Boys & Girls Clubs of Metro Denver, The Urban Farm, Sand Creek Regional Greenway Partnership, Bluff Lake Nature Center and Environmental Learning for Kids (ELK) and create career pathways through Mile High Youth Corps and Groundwork Denver.
Inspire Lamar, $1.3 million grant to the City of Lamar
Lamar will invest in transforming North Gateway Park and Willow Creek Park as well as eighteen programs and associated pathway opportunities to bring new experiences to youth like fishing, camping, and biking, and will give them the gear to do it with an affordable outdoor gear library.
San Luis Valley Inspire, $1 million grant to the towns of Antonito, Crestone, and Saguache
GOCO funding will be in invested in Antonito, Creede and Saguache, building the Antonito Outdoor Education Center and investing in the creation of the Antonito Adventure Program, improving connections along Creede's Willow Creek Corridor, the Headwaters Youth Conservation Corps, the Saguache Backyard to Backcountry Program, and the Saguache Youth Conservation Corps.
OPEN SPACE GRANTS - $6.6 MILLION TOTAL FUNDING
Baker's Peak Ranch Conservation Easement Project, $625,000 to Colorado Open Lands in partnership with Colorado Parks and Wildlife
Just south of the Wyoming border, Baker's Peak Ranch is a 7,311-acre working cattle ranch that is also home to abundant wildlife. Permanently conserving the property will protect wildlife habitat, encourage further conservation in the area, preserve public hunting access, sustain local agriculture, protect scenic views from adjacent BLM land, and connect to other nearby public lands.
Doig Homestead Open Space, $675,000 grant to Summit County
The Doig Homestead, located just north of Silverthorne, is in the only part of Summit County where agriculture is possible. The project will also preserve scenic views from Highway 9 and protect habitat for deer and elk.  The county will continue leasing the land for agricultural use and is considering opening a portion to public access to reach the surrounding United States Forest Service trails.
Farmland Acquisition, $487,690 grant to the City of Brighton (partial award)
In partnership with The Conservation Fund, Brighton will acquire 64 acres within an agricultural and agritourism district planned through a partnership between the city and Adams County. The property is essential to preserving Brighton's rich agricultural history and is part of a valuable farming area in the region thanks to fertile soil and significant water rights.
Johnson Ranch - Glade Park, $308,500 grant to Mesa Land Trust
GOCO funding will enable Mesa Land Trust to continue a conservation effort 50,000 acres in the making on Glade Park. The 680-acre Johnson Ranch will serve as an example for nearby landowners to protect critical wildlife habitat while allowing ranching to continue. The cattle ranching family currently leasing the property also plans to continue to allow public access for local Boy Scout troops.
La Garita Creek Ranch Conservation Easement, $376,500 grant to Rio Grande Headwaters Land Trust (RiGHT)
La Garita Creek Ranch is a 460-acre guest ranch outside of Del Norte that provides critical water access and habitat for a variety of wildlife and contains early Native American archaeological features that will be permanently protected.  The conservation of La Garita will also create new climbing and bouldering access near Penitente Canyon.
Maverick Ranch, $1,056,000 grant to The Trust for Public Land (TPL)
Maverick Ranch is a 204-acre property outside of Salida with Gold Medal fishing on the Arkansas River. Once conserved, it will open to the public for fishing access, creating the longest span of public access on the river. The ranch also provides important wildlife habitat and connects to surrounding Bureau of Land Management land.
North Floyd Hill, $545,000 grant to The Trust for Public Land (TPL), in partnership with Mountain Area Land Trust (MALT)
Acquiring the 109-acre North Floyd Hill property will create a new gateway on I-70 for Coloradans to access 12,000 acres of trails and public open space in Clear Creek and Jefferson counties. The project will ultimately connect to the Peaks to Plains trail, protecting the highly visible property from development and permanently conserving it for public outdoor recreation.
Poudre Valley Community Farms: A Pilot Project for Community Investment in Local Food, $639,750 grant to Colorado Open Lands (COL)
COL will conserve a 52-acre property between Fort Collins and the Town of LaPorte to add to the popular local Native Hill Farm, which supports a year-round community-sustained agriculture (CSA) program, a farm stand, and several restaurants in Fort Collins with local produce. The Poudre Valley Community Farms Co-op will lease the land to Native Hill for organic vegetable production, pioneering a new model for community investment in local food.
Sunfire Ranch, $1 million grant to Pitkin County
Pitkin County will permanently conserve 1,240 acres of the Sunfire Ranch, the largest ranch still unprotected in the Crystal Valley. The property has been owned by the Sewell Family since 1880. Conserving Sunfire will fill in extensive landscape of other conserved land on the Thompson Divide in addition to protecting wildlife habitat, sustaining local agricultural and environmental education, preserving scenic views, and protecting one mile of Thompson Creek.
The Nature Center at Butler Corner, $264,560 grant to Montezuma Land Conservancy
Montezuma Land Conservancy will conserve the 263-acre property outside of Dolores known as The Nature Center at Butler Corner. Several hiking trails and a temporary outdoor classroom are already in place and serving school groups and local families. The conservancy foresees using the property as part of its Community Conservation Initiative to increase local awareness of conservation efforts.
Yust Ranch, $697,000 grant to The Conservation Fund
The Yust Family has ranched in Grand County since 1884, and their property provides habitat to some of the largest herds of big game species as well as greater sage grouse. The project will contribute to the statewide conservation efforts for the Colorado River and protect scenic views enjoyed by the outdoor recreationists who fuel the regional economy.
PROTECT INITIATIVE - $10.7 MILLION TOTAL FUNDING
Agate Prairie Conservation Legacy, $2.14 million grant to Colorado Cattlemen's Agricultural Land Trust in partnership with The Trust for Public Land and The Nature Conservancy
CCALT will conserve three working cattle ranches near the town of Agate: the 14,759-acre Wilson Creek Ranch; 5,000 acres of the Stacked Lazy 3 Ranch; and the 3,670-acre Basin Ranch. Together the ranches, which are visible from Interstate 70 and numerous county roads, will represent the largest protected open space in Elbert County, achieving landscape-scale conservation of rare natural habitats. The project will protect 139 miles of streams and habitat for many wildlife species.
Buckley Air Force Base (AFB) Compatible Use Buffer, $3 million grant to The Trust for Public Land in partnership with the City of Aurora and Arapahoe County
The City of Aurora, through The Trust for Public Land, will acquire 704 acres across five parcels of land. The properties offer critical connections to previously conserved lands and will serve as a buffer of land around portions of Buckley AFB. This project is being heralded as an example to other military bases around the country hoping to spearhead similar protection efforts within their local communities.
Southeast Colorado Prairie Canyonlands Conservation Project, $2.647 million grant to Colorado Cattlemen's Agricultural Land Trust in partnership with The Nature Conservancy
CCALT will conserve 48,817 acres of the iconic JE Canyon Ranch; 2,500 acres of the adjacent Doherty property; and 7,040 acres of the nearby Swanson Ranch—all in Las Animas County. The acquisitions will contribute to large-scale conservation of threatened shortgrass prairie and will enable ranching families to continue their generations-old operations.
Willow Bay Acquisition, $3 million grant to Adams County
The culmination of 20 years of planning by Adams County and The Trust for Public Land, the Willow Bay project is one of the most significant public recreation and open space acquisition opportunities in the area to date. Willow Bay features a 100-acre reservoir that will be a recreation destination for locals, Denver metro area residents, and visitors.
TRANSACTION COSTS - $274,068 TOTAL FUNDING
Badger Creek Conservation Easement, $39,800 grant to Central Colorado Conservancy (CCC), formerly Land Trust of the Upper Arkansas
CCC will conserve the 150-acre Badger Creek Ranch in western Fremont County. The property includes a quarter-mile of Badger Creek and provides an essential water source and habitat for wildlife as well as cattle-grazing land for a local rancher.  The ranch adds to the scenic character of the rural area and preserves views from the Arkansas Headwaters Recreation Area (AHRA) and surrounding public lands.
Barr Farm Conservation Easement, $27,500 grant to Colorado Open Lands (COL)
Colorado Open Lands will  conserve 270 more acres of Barr Farm in Pueblo County, buffering Fountain Creek, keeping water that drains into the stream clean and providing flood and erosion control benefits. Fountain Creek and surrounding shortgrass prairie provide rich wildlife habitat and migration corridors. The property buffers existing protected land and preserves scenic, panoramic views in an area of the state experiencing a significant rise in population.
McLeod Conservation Easement, $39,000 grant to Mesa Land Trust (MLT)
In the top-ranked project from this round of the transaction costs program, Mesa Land Trust will conserve 377 acres of the McLeod Ranch on the north rim of the Black Canyon of the Gunnison. The ranch fills a gap between the Curecanti National Recreation Area and existing conserved land and national forest lands. It also serves as a buffer to nearby wilderness areas and protects views from neighboring scenic landscapes along the West Elk Scenic Byway.
Menoken Farm Conservation Easement, $47,600 grant to Mesa Land Trust (MLT)
Mesa Land Trust will conserve 176 acres of the Menoken Farm in Montrose County.The property contains more than one mile of river, as well as critical wetlands, providing habitat for many wildlife species.  The conservation easement will tie senior water rights dating from the 1880s to the farm. The water irrigates pastures to support the largest Thoroughbred racehorse breeding operation in the state, which has been in the business for 40 years.
Ranch on the Uncompahgre River, $38,700 grant to Gunnison Ranchland Conservation Legacy (GRCL) in partnership with Colorado Open Lands (COL)
Gunnison Ranchland Conservation Legacy will conserve a 201-acre family ranch in Montrose County. Colorado Open Lands will manage the conservation easement, which will protect one mile of the Uncompahgre River as well as 161 acres of irrigated hay ground and the associated water rights. The property hosts a great blue heron colony along with many other species of wildlife. In addition, the landowner intends to open a learning center to promote sustainable agriculture practices to the public.
Ranch on the Yampa River, $31,468 grant to Colorado Open Lands (COL)
Colorado Open Lands will conserve a 165-acre family ranch located east of Craig in Moffat County. The project will protect productive agricultural lands, significant natural habitat for a variety of wildlife species, and one half-mile of the Yampa River.  The ranch provides scenic views for local residents and travelers, adding to the character of the rural landscape and protecting regional resources that attract tourism and bring economic development to the area.
Schultz Elk & Cattle Ranch, $50,000 grant to Montezuma Land Conservancy (MLC)
Montezuma Land Conservancy will conserve 225 acres of Schultz Elk & Cattle Ranch in Montezuma County. The ranch will connect nearly 10,000 acres of conserved lands, including other properties under conservation easement and the Menefee Mountain Wilderness Study Area (BLM). The property is also an important migration corridor for wild elk and deer herds, and on a portion of the property the landowners run a cattle and certified elk operation. The project will also conserve scenic views from the San Juan Skyway National Scenic Byway.
YOUTH CORPS GRANTS - $436,800 TOTAL FUNDING
Baxter Gulch Trail and Crested Butte Open Space Stewardship, $25,200 to the Town of Crested Butte
Multiple users on public open space and the Baxter Gulch Trail and an increase in visitors to Crested Butte create a greater need for stewardship, which is why Western Colorado Conservation Corps (WCCC) will spend four weeks trail building—finishing one remaining mile of the Baxter Gulch Trail—and removing noxious weeds. The project will wrap up six years of trail work.
Black Forest Area Trails and Forest Restoration, $45,000 to El Paso County
Crews from Mile High Youth Corps-Southern Front Range (MHYC-SFR) will mark and clear trail paths, construct and close trails, and thin live and dead standing trees within Black Forest Regional Park, along the Palmer Divide northeast of Colorado Springs, and at the Pineries Open Space in El Paso County in order to improve ground cover, reduce stormwater runoff, and increase water infiltration. The project will increase recreation access and assist with recovery from the Black Forest Fire of 2013.
Cerise Park Open Space Invasive Weed Management, $13,800 to the City of Montrose
The City of Montrose parks staff will oversee a WCCC chainsaw and pesticide application crew as they spray or remove Russian olive, tamarisk, thistle, and white top; plant native species; and reseed with native grasses on land surrounding the nine miles of new trails around Cerise Park in Montrose's downtown area. The work will also help formalize the new trail network created in 2015.
City of Greeley Natural Area Improvement, $41,700 to the City of Greeley
Weld County Youth Conservation Corps (WCYCC) will improve four of Greeley's natural areas through the removal of Russian olive trees and unneeded fencing. Crews will remove trees on one acre of the 10-acre Mountain Shadows Natural Area and on 2.5 acres of the Country Club West Natural Area. The two areas where fencing will be removed are Sheep Draw Natural Area and Cottonwood Bend Natural Area, both located along the Cache la Poudre River and acquired with funding from GOCO's River Initiative grant program.
Duckett Creek Ranch Fire Mitigation and Wildlife Habitat Enhancement, $22,500 to San Isabel Land Protection Trust
Crews from Mile High Youth Corps - Southern Front Range will be deployed to Duckett Creek Ranch on the eastern side of the Sangre de Cristo Mountains near Westcliffe. With the greater goals of wildlife habitat improvement, future fire mitigation, and scenic view improvement for public enjoyment, youth will remove burned debris and treat invasive vegetation.
Hermit Park Open Space New Trail Construction, $40,200 to Larimer County Dept. of Natural Resources
Larimer County Conservation Corps (LCCC) will assist in completing one of the three remaining miles of new multi-use trail at Hermit Park Open Space, connecting the perimeter trail to the Hermit's Cabin Trailhead. These efforts will continue work begun in 2016 and bring the park one step closer to the completion of its full trail system.
Intemann Trail Fire Mitigation Project, $30,000 to City of Manitou Springs
For four weeks, youth from MHYC-SFR will work on fire mitigation along the Intemann Trail on the southern trail boundary of Manitou Springs, creating a critical fire break in an area at high risk for wildfires. The trail is a popular recreation destination for local residents and tourists.
John Griffin Regional Park Tamarisk and Russian Olive Abatement, $30,000 to Canon City Area Rec and Park District
Mile High Youth Corps - Southern Front Range will be employed to remove invasive species from a 19-acre portion of John Griffin Regional Park. Tamarisk and Russian olive trees are detrimental to a habitat ripe with native plants and wildlife.
Las Colonias Park Riparian Area, $17,550 to the City of Grand Junction
The City of Grand Junction, Ducks Unlimited, and Tamarisk Coalition are partnering to conserve 25 acres of habitat adjacent to the Colorado River at Las Colonias Park. Goals of the project include providing wildlife with slough habitat and increasing public support for wetlands. A new channel will be excavated so new vegetation and forest can be established. WCCC will also assist with planning. This project also received a GOCO habitat restoration grant.
Montezuma School to Farm Manaugh Garden Project and Ohana Kuleana Community Garden, $25,200 to the City of Cortez
The Montezuma School to Farm Project (MSTFP), a program of the Mancos Conservation District, and the Garden Project of Southwest Colorado (GPSWC) will train and work with Southwest Conservation Corps (SCC) to install the foundation of a new school garden at Manaugh Grade School in the Cortez School District, and to build an outdoor classroom at the Ohana Kuleana Community Garden in Durango. Together the projects will serve over 1,200 youth and adults annually.
Phantom Canyon Preserve River Trail, $37,800 to The Nature Conservancy (TNC)
Located in the Laramie Foothills of Larimer County, Phantom Canyon Preserve is one of the last remaining roadless canyons along Colorado's Front Range. The trail alongside the river in the canyon bottom is impermanent due to overgrown vegetation, and as a result, the river corridor is negatively impacted and invasive species are making headway. Larimer County Conservation Corps (LCCC) will help establish a sustainable river trail.
Spring Creek Park Maintenance and Mitigation, $26,400 to the Town of Brookside
An 18-acre park with native vegetation, Brookside's Spring Creek Park requires maintenance, including sealing a two-rail fence, pedestrian bridge, and benches; repainting a restroom; and completing remedial trail work. In addition, Mile High Youth Corps - Southern Front Range crews will remove dead trees, trim trees, and apply pesticide to web-worm infested trees to mitigate risk of fire.
Spring Creek Trail Restoration, $12,150 to the City of Steamboat Springs
Rocky Mountain Youth Corps (RMYC) will work to build on previous projects on Spring Creek Trail in Routt County to enhance trail safety, prevent erosion, and protect the creek's water quality. Work will focus on areas of significant erosion and include tasks such as creating three new water diversion or erosion control structures, rebuilding damaged trailhead, resurfacing an eroded bridge deck, and completing vegetation management on 900 feet of trail.
Swallowtail and Ringtail Trail Corridor, $27,600 grant to Douglas County Open Space
Mile High Youth Corps (MHYC) crews will assist with clearing paths, erosion control, and surface work along 10 miles of trail within Douglas County's Nelson Ranch and Pike Hill Open Space properties, improving trail conditions and safety for a variety of user types, including hikers, bikers, and equestrian users.
Swift Ponds Russian Olive Removal and Noxious Weed Management, $41,700 to Colorado Open Lands (COL)
Colorado Open Lands (COL), Weld County Youth Conservation Corps (WCYCC), and Larimer County Weed District, along with Colorado Youth Outdoors, owners of Swift Ponds, have partnered to improve Swift Ponds open space. Crews will remove Russian olive trees and mitigate noxious weeds, including Canada thistle. Invasive species threaten the viability of native plants, negatively impact critical habitat, and compromise safety. This project also received a GOCO habitat restoration grant.
Great Outdoors Colorado (GOCO) invests a portion of Colorado Lottery proceeds to help preserve and enhance the state's parks, trails, wildlife, rivers, and open spaces. GOCO's independent board awards competitive grants to local governments and land trusts, and makes investments through Colorado Parks and Wildlife. Created when voters approved a Constitutional Amendment in 1992, GOCO has since funded more than 4,700 projects in urban and rural areas in all 64 counties without any tax dollar support. Visit GOCO.org for more information.