GOCO is funded solely by Colorado Lottery proceeds and receives no general fund or taxpayer dollars. Per the constitution, Lottery net proceeds are allocated as follows:
The Constitution requires GOCO to allocate its funds to four areas – outdoor recreation, wildlife, local governments, and open space – in substantially equal portions over time. Outdoor recreation and wildlife funding is allocated through investments in Colorado Parks and Wildlife programs and facilities. 
GOCO's fiscal year runs from July 1 through June 30. Each year, GOCO awards funding through competitive grant programs for:
Local government park, outdoor recreation, and environmental education facilities projects
Outdoor recreation and wildlife conservation projects through the Colorado Parks & Wildlife
Open space projects
Trail projects
Special opportunity and "legacy" projects that integrate GOCO's four constitutionally mandated funding categories
COLORADO PARKS and wildlife INVESTMENT PLAN
The CPW Investment Plan reflects CPW and GOCO's mutual commitment to the outdoors and describes how GOCO funding will be allocated across state parks and wildlife programs. It is approved each fiscal year by the GOCO Board. CPW's fiscal year runs from July 1 to June 30.
Download the CPW FY 2022 Investment Plan >>
GOCO FINANCIAL AUDITS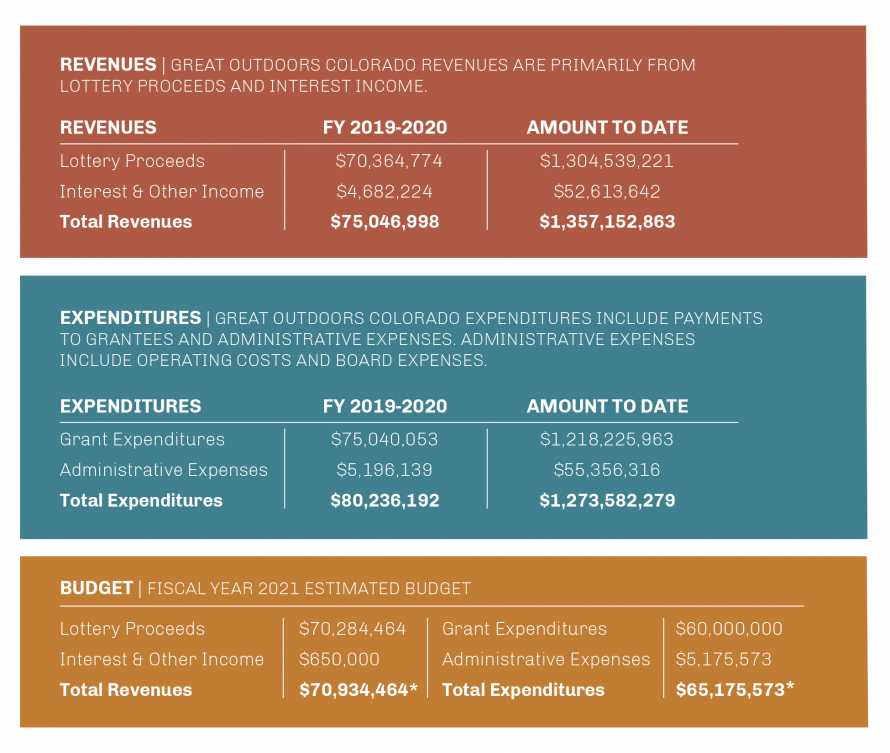 * Difference between budget revenues and expenditures reflects monies designated for prior grant obligations.