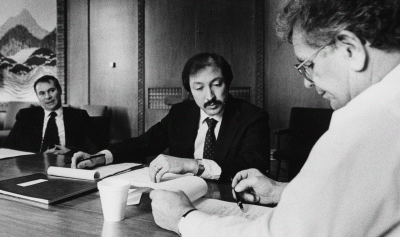 In 1990, Colorado Governor Roy Romer (left) created the Great Outdoors Colorado Citizens Committee with the help of Ken Salazar, executive director of the Colorado Department of Natural Resources (center). The committee, which consisted of conservation, business and political leaders from across Colorado, was charged with answering the question: What should we do to sustain and enhance our outdoor resources—parks, trails, wildlife, and open space—for the future?
After an extensive public process, the committee issued recommendations that included establishing a trust fund to invest in the future of Colorado's outdoors. As a result of the committee's work, citizens placed an initiative on the 1992 ballot: a constitutional amendment to create the Great Outdoors Colorado Trust Fund. The initiative was approved with 58% of the state's voters in favor.
The Great Outdoors Colorado Amendment (Article XXVII of the Colorado Constitution) redirected lottery proceeds being used for capital construction projects to projects that protect and enhance Colorado's wildlife, park, river, trail, and open space heritage. The Amendment also created the State Board of the Great Outdoors Colorado Trust Fund to distribute those funds.
Salazar, notably, later became a U.S. Senator and U.S. Secretary of the Interior. While at the Interior, he established the America's Great Outdoors Initiative to reconnect Americans, especially young people, with the natural world.