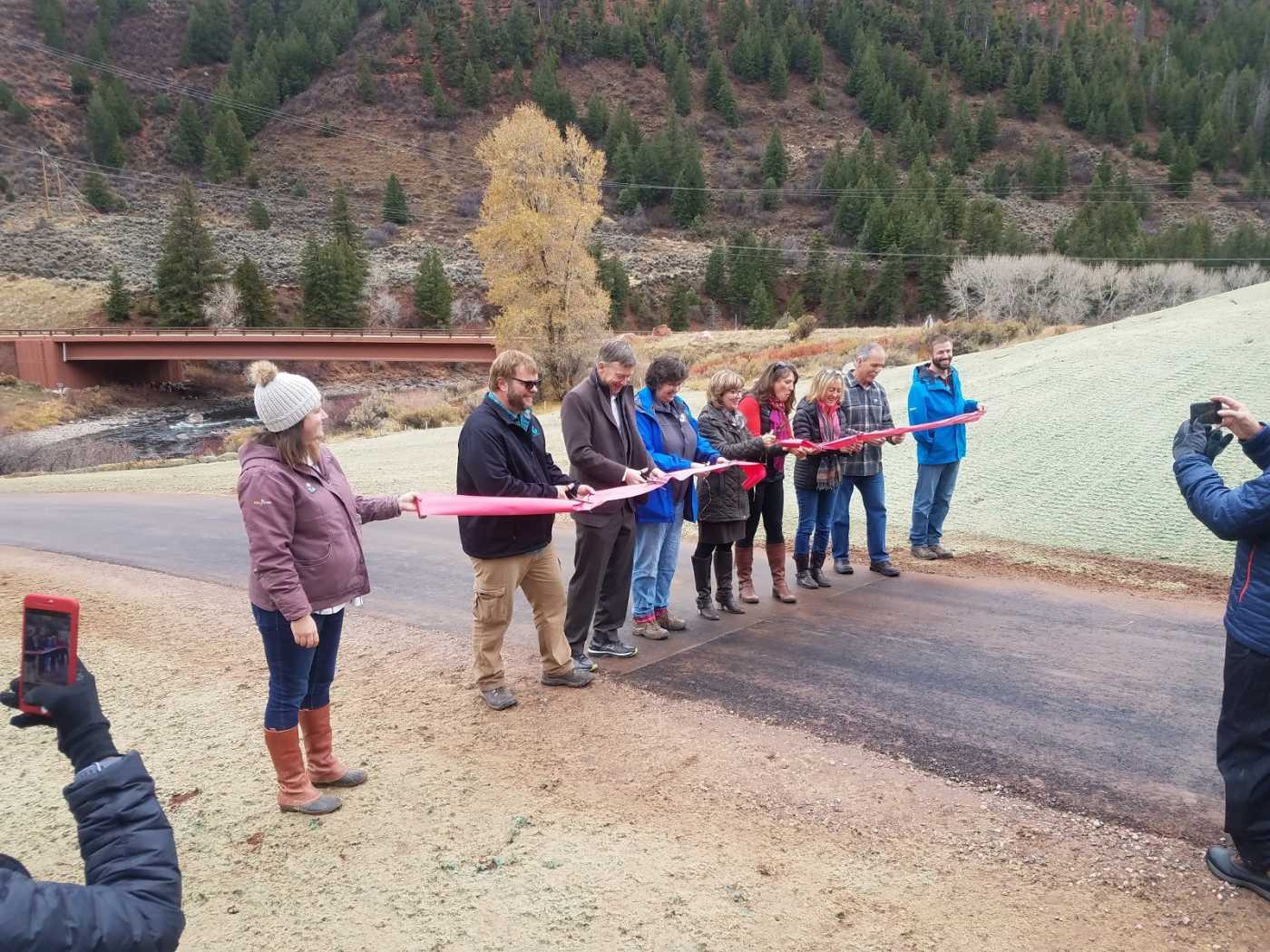 Eagle to Horn Ranch Grand Opening Ceremony (pictured: Former Governor John Hickenlooper)
There's a lot of fanfare around grant awards, but what happens after the ceremonial checks are presented and the reporters have published their articles? Our partneres get down to business.
For 26 years, GOCO has improved Colorado's great outdoors with the help of Colorado Lottery proceeds. We've put more than $1.2 billion in proceeds back into 5,200 projects to improve the lives of Coloradans across the state.
After projects are awarded funding, grant recipients have about two years to make their projects happen. In January, 14 projects closed, representing more than $4.8 million in GOCO investments into local communities across the state. Scroll to see if one's near you:
Carbondale to Crested Butte Trail Plan
$100,000 grant to Pitkin County
With the help of GOCO funds, Pitkin County has completed a much-needed planning effort for the 83-mile Carbondale to Crested Butte Trail. The trail will connect some of Colorado's most beautiful landscapes, which include a scenic byway corridor, a historic district, and two national forests. The plan has been identified as the best way to address missing links, while incorporating public involvement and environmental studies. The plan also involves a joint review, which is based on the National Environmental Policy Act, to assess the alignment's potential effects on the land and its biodiversity.  Check out the final plans for the trail here >>
 
Chipeta Park Enhanced Accessibility
$31,727.58 grant to the Town of Nederland
The Town of Nederland used its GOCO funding to improve trail conditions and upgrade amenities at Chipeta Park. The existing trail was widened and lengthened around the children's fishing pond to allow for ADA access. Additional amenities include improved safety of the fishing dock, landscaping, and tables and signage. Learn more about GOCO's LPOR & mini grant programs >>
Delta County Trails Master Plan
$90,404.25 grant to Delta County
Delta County partnered with the Department of Local Affairs to develop a master plan for its county-wide trail systems. In addition to serving as a guide for future development, the plan helps identify and map existing trails. Existing trail data will also be used to develop a trail inventory, one that focuses on mapping connections between key trails to the county's recreational amenities. See more about GOCO's planning grants >>
Fossil Creek Trail - College Avenue to Shields Street
$1,000,000 grant to the City of Fort Collins
With its GOCO funds, the City of Fort Collins constructed a 1.25-mile trail addition, including an underpass beneath the BNSF railroad. The trail addition connects the east and west sides of the city and expands the more than 36 miles of existing paved trails. The project also includes three pedestrian bridges that cross Fossil Creek and a soft surface trail that runs adjacent to the paved trail. Learn more about Fossil Creek Trail >>
Kane Ranch Open Space Master Plan
$30,000 grant to El Paso County
El Paso County has developed a master plan for the 495-acre Kane Ranch Open Space. The plan comprehensively outlines existing conditions, the community's feedback, and prioritized improvements over the next five- to 10-year period. As commercial and residential development pushes east from nearby Fountain Valley, the conservation of this former ranchland will allow current and future generations to experience the natural environment in a close-to-home setting. Read about other GOCO supported projects in El Paso County >>
Longmont Flood Recovery
$671,942.30 grant to the City of Longmont
In September 2013, the City of Longmont experienced the most devastating flash flood event in its history. Catastrophic flooding, especially along the St. Vrain Creek, caused extensive damage that was estimated around $19.7 million. With the help of GOCO funds, the City of Longmont is restoring 3.5 miles of trail along the St. Vrain Greenway. Additionally, repairs are being made to the trail infrastructure along Lefthand Creek, which is an area that sustained damages not covered by insurance or FEMA. Find more on Longmont's Flood recovery efforts here >>
Namaqua Trail Underpass
$97,000 grant to the City of Loveland
The City of Loveland received a GOCO grant to conduct the environmental analysis, design, and preparation needed for a trail underpass at Namaqua Avenue. The Namaqua Avenue Trail and Underpass, located in southwest Loveland, is part of the city's 18-mile recreation loop trail. The 1,000-foot segment will close one of three remaining gaps and provide 41,000 residents with safe connections to parks, neighborhoods, and schools. Take a closer look at the Loveland trail system here >>
North St. Vrain Creek Restoration in Button Rock Preserve
$43,004.92 grant to the City of Longmont
Button Rock Preserve, a protected watershed that supplies Longmont's drinking water, was an area severely affected by the 2013 floods. The preserve, which is a 3,000-acre property owned and managed by the City of Longmont, required extensive restorations to North St. Vrain Creek. GOCO funding assisted the city in the natural regeneration of 1.5 miles of wetland habitat. Other sources of project funding and support include the Department of Local Affairs, Colorado Parks and Wildlife, and the St. Vrain Anglers chapter of Trout Unlimited. More on the Longmont Restoration efforts here >>
Nottingham Park: Destination Jump, Splash, and Learn!
$350,000 grant to the Town of Avon
The Town of Avon used GOCO funds to renovate 1.8 acres of Nottingham Park. Renovations include improvements to the live stream water channel, community gathering area, and enhanced bike loop access. Additionally, the park's 20-year-old playground was updated with nature-themed equipment, which includes a zipline, slides, climbing features, and more. Check out Avon's newest park here >>
River Park
$350,000 grant to the Town of Breckenridge
With the help of GOCO funds, the Town of Breckenridge constructed River Park, an artfully designed, nature‐based environment for children to experience river systems, forests, and the rich history of Breckenridge. The site offers residents and visitors a place to gather and inspire their imagination, interaction, and connection with the natural environment. Take a look at this video introducing River Park >>
Palisade Plunge Planning Grant
$42,951.64 grant to the Town of Palisade
The Town of Palisade used its GOCO grant to create a master plan for the Palisade Plunge Trail. The trail is envisioned as a 31-mile descent from the top of Grand Mesa to Palisade's valley floor. Grant funds also assisted the town in coordinating efforts with the US Forest Service, Bureau of Land Management, and Colorado Parks and Wildlife to initiate environmental assessments and develop a trail alignment for potential future construction. Check out the vision for the trail here >>
Shady Island River Park Planning
$30,000 grant to Gunnison County
Gunnison County secured a 12-acre property on the north side of the City of Gunnison. The county plans to improve the park by creating boat access and recreational amenities at the Gunnison River. The county is also planning to improve riparian, wildlife, and instream fish habitat. GOCO funds were used to develop and implement a public planning process to assist in determining the design and uses of this property. Read more about the planning effort here >>
Town of Eagle to Horn Ranch Open Space Trail
$2,000,000 grant to Eagle County
This project, which received one of the first ever Connect Initiative grants from GOCO, creates a seven-mile segment of the Eagle Valley Trail that connects downtown Eagle to Horn Ranch Open Space. The segment is part of the 63-mile-long Eagle Valley Trail, which once completed, will connect all the communities of the Eagle River and Gore Creek valleys from Vail Pass to Glenwood Canyon. The completed trail will also be part of a nearly 193-mile stretch of continuous paved trail for walkers, bikers, and other recreationists in the intermountain region. Click here to learn more about the trail's impact and progress >>
Wildcat Trail
$57,516.57 grant to Thompson Rivers Park and Rec District
With the help of GOCO funds, the Thompson Rivers Parks and Recreation District designed and engineered a 5.1-mile segment of the Wildcat Trail. The segment is part of an eventual 11.5-mile, multi-use trail that will run from Milliken to Firestone along an abandoned rail corridor. The completed Wildcat trail will connect the northern Milliken Circle Trail system to the southern Mead, Firestone, St. Vrain, and American Discovery Trails, providing local communities with safe trail access. Check out Thompson Rivers Park and Rec on Facebook >>
Buckley Air Force Base Compatible Use Buffer
$200,000 grant to the Trust for Public Land
Arapahoe County, the City of Aurora, and the Colorado Department of Military and Veterans Affairs partnered with the Trust for Public Land to acquire Parcel 5, a 319-acre property located east of the Buckley Air Force Base. This parcel, which is part of the larger Buckley Air Force Base Compatible Use Buffer grant, will receive a conservation easement to ensure the land is maintained as an open space for agricultural use, scenic enjoyment, and passive outdoor recreation. The buffer will help connect streams, open space, and new trails with existing parks, recreation facilities, and an environmental education center. In addition, a new soft surface trail will invite wildlife viewers, walkers, and cyclists to experience nature close to home. Conserving this buffer also helps protect Buckley AFB from encroaching development and ensure the long-term viability of training and flying missions at the base, which houses multiple branches of the military and contributes an estimated $1 billion annually to Aurora's economy. Find out more about this projects and other funded through GOCO's Protect Initiative >>